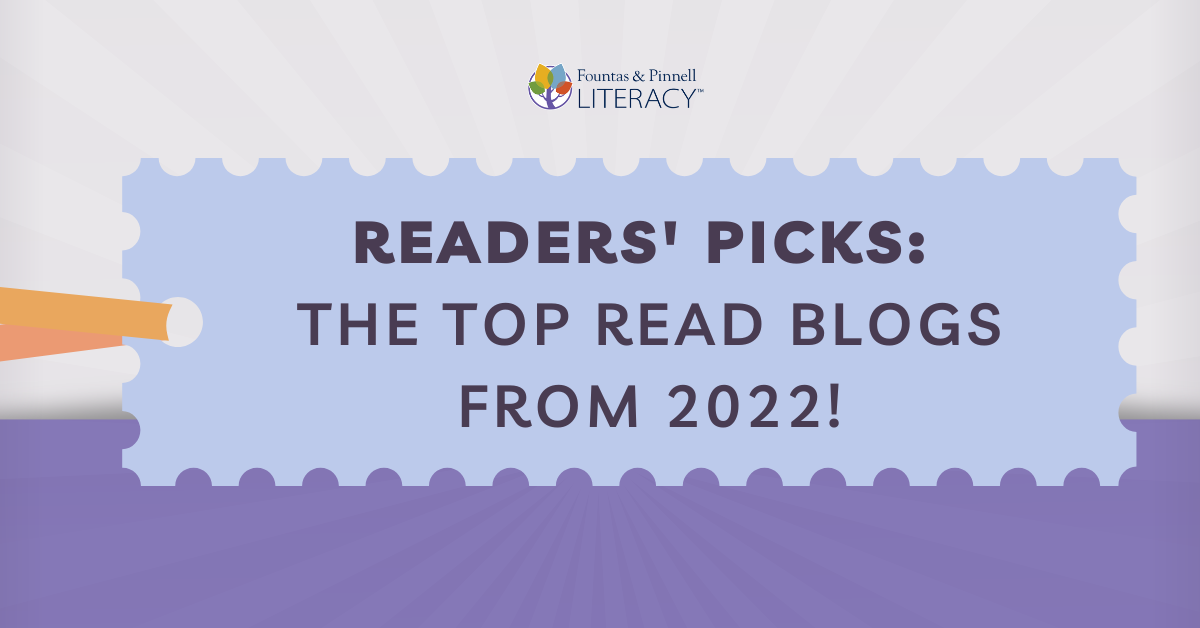 Let's recap! To wrap-up the year, the Fountas & Pinnell Literacy™ Team is here to share what blogs our readers enjoyed reading the most in 2022. Here's a quick round-up of our most-read blogs:

5 Tips to Communicate Student Progress and Support Literacy Learning at Home

Text levels have a critical role in the hands of teachers who understand their complexity and use them to make thoughtful instructional decisions for guided reading lessons. But text levels are complicated! Although text levels use the familiar designations from A-Z, each level is defined in The Literacy Continuum by detailed descriptions of the specific behavioral and cognitive demands that texts place on readers. The F&P Text Level Gradient™ is used for labeling texts for guided reading, not for labeling children. Text levels are not meaningful to most caregivers, so sharing the text level that a child is currently reading is not an effective way to share progress. Shift the conversation to discuss the unique strengths and areas for growth of each unique child. Read more here.
---
What is Responsive Teaching?

You have organized your classroom and established routines and procedures. You have learned a lot about your students from initial assessments. You have spent time carefully planning your lessons for the weeks ahead. But what happens when students unexpectedly show you that they need more support than you anticipated? What happens when your students show you that they need you to steer your instruction down a different path? Read more here.
---
How to Select Books for an Engaging Interactive Read-Aloud Experience

In order to get the most instructional power from interactive read-aloud, it's important to choose an engaging book that all students will enjoy while offering teaching opportunities that suit the needs of the students in your classroom. To that end, we've pulled suggestions for selecting texts from Teaching for Comprehending and Fluency by Irene C. Fountas and Gay Su Pinnell and organized them into this easy to browse blog. Read more here.
---
Five Essential Tools for Literacy Leadership

What essential tools do all literacy leaders need? Effective literacy leaders involve educators in processes of continuous improvement. They need practical tools for creating a culture of shared leadership, for establishing a common vision for teaching and learning, and for reflecting on student success.

Leading for Literacy is jam-packed with more than 30 practical tools that will help to inform decisions about assessment, curriculum, instruction, intervention, and professional learning.Here are 5 tools, all found in the professional book, Leading for Literacy, that we think are essential for leadership. Read more here.
---
The Benefits of Shared Reading for Primary Readers: A Bridge to Independence

We rely on bridges for safe passage. We start in a familiar, comfortable place, where we are sure of our footing. Bridges connect the place we have been to the places we want to go. Their support allows us to travel where we once could not or in a way that is less daunting.

Think of shared reading as a bridge for young readers. During shared reading, the teacher and children read aloud an engaging enlarged text that is beyond children's ability to read independently. After the first reading, children take part in multiple, subsequent readings of the text. The experience of reading an enlarged text together – supported and held in community – has the potential to move children from one place on their reading journey to the next. Read more here.