Text levels have a critical role in the hands of teachers who understand their complexity and use them to make thoughtful instructional decisions for guided reading lessons. But text levels are complicated! Although text levels use the familiar designations from A-Z, each level is defined in The Literacy Continuum by detailed descriptions of the specific behavioral and cognitive demands that texts place on readers. The F&P Text Level Gradient™ is used for labeling texts for guided reading, not for labeling children. Text levels are not meaningful to most caregivers, so sharing the text level that a child is currently reading is not an effective way to share progress. Shift the conversation to discuss the unique strengths and areas for growth of each unique child.
Here are five meaningful ways to discuss progress with caregivers and support literacy development at home.


1. Show Caregivers Samples of Texts and Writing About Reading
In order to powerfully illustrate a student's progress, try showing caregivers what their child was reading at the beginning of the year vs. what they are currently able to read. Talk through some of the characteristics of each book so caregivers can see how the text difficulty is increasing. Show samples of the child's writing about their reading from their Reader's Notebook, noting how their thinking as a reader has developed over time.


2. Use Meaningful Language
Use everyday language that caregivers can understand to discuss their child's progress. For example, "your child is meeting expectations in reading" or "your child is not meeting the expectations for reading at this time, but we have a plan for getting them where they need to be." Caregivers want reassurance that their child is on track or that they are getting the additional support they need to catch up.


3. Discuss Each Child's Engagement with Reading
Share with caregivers what you have observed about their child as a reader –– their tastes and preferences, their favorite genres, and authors. Tell them about the ways that their child has been able to participate in conversations about books. Talk about the ways you have noticed their child is making an effort or showing initiative as a reader.
4. Encourage Book Discussion at Home
A child's talk reflects their thinking. When caregivers talk with their children about books, it confirms their child's identity as a reader and builds interpersonal connection. Encourage caregivers to engage children in conversation (rather than interrogation) about the books they read together. Encourage caregivers to focus the conversation on whatever interests their child and on what is meaningful to them. You might want to provide some very open-ended prompts for comprehension that they can use to get their child talking, such as:
What are you thinking?

What are you wondering about?

What did you notice?

Talk more about that.
5. Recommend a Trip to the Library
Remind caregivers that authentic opportunities to choose books that interest and engage their child is an important part of being a reader. There is no place better than the local library for families to discover new books or reread old favorites together. Librarians are incredible resources for finding just what you are looking for and for recommending exciting new titles.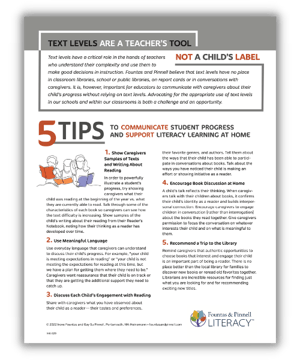 Download the PDF of these tips so that you can refer to them again and again and share them with your colleagues. It is crucial for teachers to share a professional vocabulary, but equally important to adjust that vocabulary to communicate effectively with parents/caregivers.