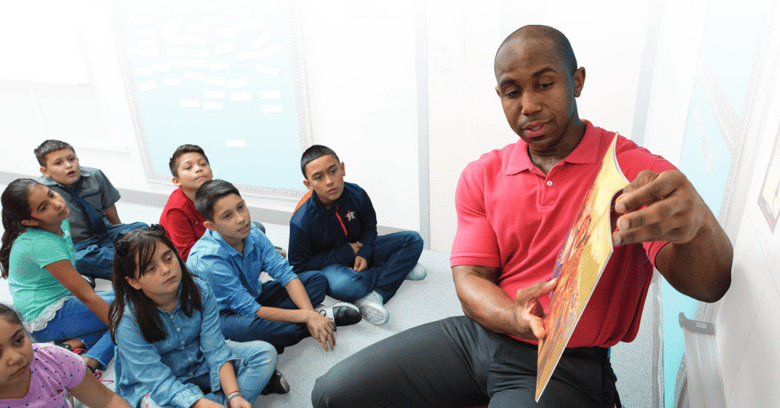 In order to get the most instructional power from interactive read-aloud, it's important to choose an engaging book that all students will enjoy while offering teaching opportunities that suit the needs of the students in your classroom. To that end, we've pulled suggestions for selecting texts from Teaching for Comprehending and Fluency by Irene C. Fountas and Gay Su Pinnell and organized them into this easy to browse blog.

SELECT BOOKS THAT STUDENTS WILL LOVE
Select texts that are funny, moving, exciting, thought-provoking, and interesting.

Select texts appropriate to the age and interests of your students.

Select texts that are of high quality (award winners, excellent authors, high-quality illustrations).

Repeat some texts that have been loved by students.

Select texts that you love and tell students about them.


SELECT BOOKS WITH LEARNING OPPORTUNITIES
Plan selections so that you present a variety of cultures; books give students a chance to see themselves represented and to see things from different perspectives.

Choose texts that help students understand how people have responded to life's challenges.

Consider books on the significant issues in the age group—peer pressure, friendship, families, honesty, racism, competition.

Especially for younger readers, select texts that help them enjoy language—rhythm, rhyme, repetition.

Select different versions of the same story to help students make comparisons.

Choose texts that will expand your students' knowledge of others' lives and empathy.

Choose texts that will help students reflect on their own lives.

Evaluate the texts to be sure the ideas and concepts can be understood by your students.


SELECT BOOKS OF DIFFERENT GENRES AND TYPES

Mix and connect fiction and nonfiction.

Select fiction and nonfiction texts on the same general topics.

Vary genres and forms so that students listen to many different kinds of texts—articles, poems, fiction, informational texts.

Select informational texts, even if they are long; you can read some interesting parts aloud and leave the books for students to peruse on their own.

Consider "text sets" that are connected in various ways beyond genre—theme, structure, time period, issues, series, author, and illustrator.


SELECT BOOKS WITH VARIOUS TEXT CHARACTERISTICS
Select several texts that help listeners learn from an author's style or craft.

Select texts that offer artistic appreciation.

Select texts that build on one another in various ways (sequels, themes, authors, illustrators, topics, settings, structure).

Link selections in ways that will help students learn something about how texts work.


SELECT BOOKS THAT CONNECT TO OTHER LITERACY CONTEXTS
Select books that provide good foundations for minilessons in reading and writing.

Consider the curriculum demands of your district; for example, link texts with social studies, science, or the core literature program.
From Teaching for Comprehending and Fluency by Irene C. Fountas and Gay Su Pinnell. Copyright (c) 2006 by Irene C. Fountas and Gay Su Pinnell. Published by Heinemann.