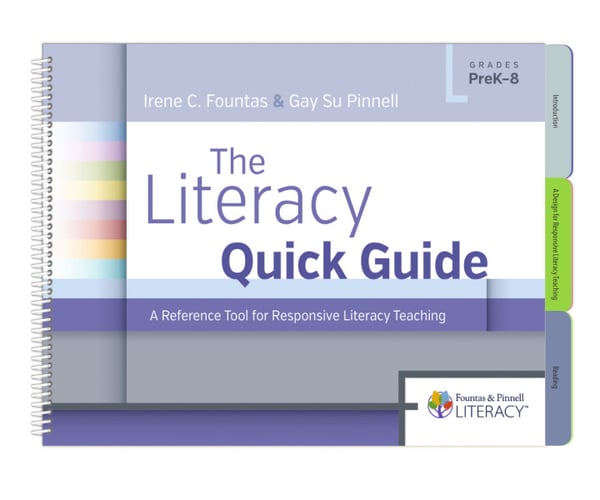 With locating tabs, an intuitive page layout, and Irene Fountas and Gay Su Pinnell's research-based thinking, The Literacy Quick Guide is a teacher's user-friendly tool for responsive teaching. Unlike any other teaching tool, The Literacy Quick Guide is a concise and to-the-point guide used for planning and structuring lessons, for thinking about how to appropriately and effectively choose texts, and for learning how to engage in responsive teaching in the most effective ways within the literacy-rich classroom. Teachers and educators can use this tool not only as the initial building block toward a cohesive, literacy-based classroom, but also as an ongoing reference tool for explicit teaching.
What is The Literacy Quick Guide?
The Literacy Quick Guide is a reference tool for responsive literacy teaching. It provides a concise description of a coherent literacy system in which all instructional contexts are reciprocally connected to improve student outcomes. The Literacy Quick Guide provides important information about the processes of reading, writing, talking, and word study, while describing research-based instructional practices for high-impact literacy teaching.
The Literacy Quick Guide is your guide to:
Designing effective literacy instruction for your classroom, school, or district
Planning instructional time to support literacy learning in a variety of contexts
Organizing your classroom for effective, efficient literacy teaching
Providing a rich, coherent instructional design for your teaching.
Who is this guide for?
PreK-8 teachers, literacy coaches, literacy specialists, instructional leaders, school administrators, district literacy leaders, and professional learning communities.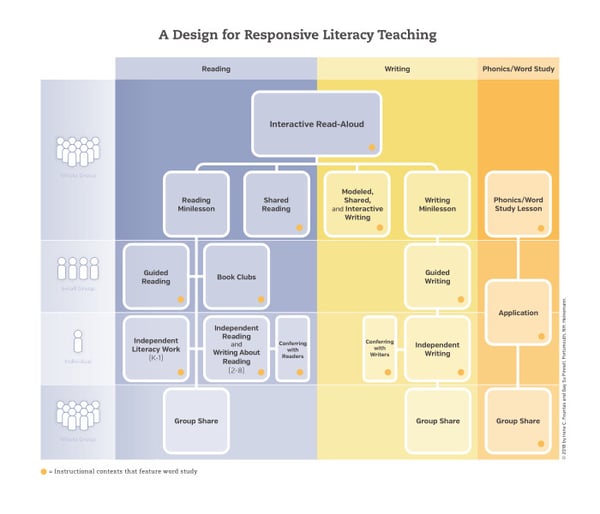 As you read, you will dive deeper into the topics of
Responsive Literacy Teaching
Reading
Readers' Workshop
Talking About Reading
Writing About Reading
Writing
Writers' Workshop
Phonics, Spelling, and Word Study
and find useful tools, strategies, and insight on how to implement them in your classroom.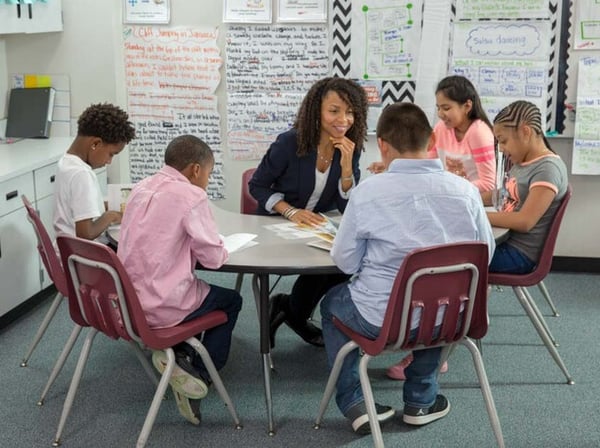 As you engage with The Literacy Quick Guide, you'll learn:
Specific ways to support English Language Learners
How to select texts and create text sets for your classroom
How to build and organize your classroom library
What a leveled book is and why a level matters
The power of inquiry
Effective practices for Interactive Read-Aloud, Shared Reading, Guided Reading, Independent Reading, Book Clubs, Reading Minilessons, and Readers' Workshop.
The Literacy Quick Guide is your guide to new beginnings, your guide for planning and structuring, your guide for learning about learning, and your guide to a re-envisioned, cohesive literacy classroom.
For more information, check out The Literacy Quick Guide brochure here, a sample chapter here, and dive into Fountas & Pinnell Classroom™ here for a look inside a fully cohesive classroom literacy system.
See p.82 of The Literacy Quick Guide for a complete bibliography.
For more information about the research behind Irene Fountas and Gay Su Pinnell's thinking, see the References page in the back of Guided Reading: Responsive Teaching Across the Grades, 2nd Edition.
~The Fountas & Pinnell Literacy™ Team
---
Join the fastest growing community in the field of literacy education. Get your free membership and stay up to date on the latest news and resources from Fountas and Pinnell.
For a well-organized, searchable archive of FAQs and discussions that are monitored by Fountas and Pinnell-trained consultants, go to our Discussion Board.
For more collaborative conversation, join the Fountas & Pinnell Literacy™ Facebook Learning Group.