An increase in student achievement, rich teacher experiences, and an engaged culture of literate, curious students.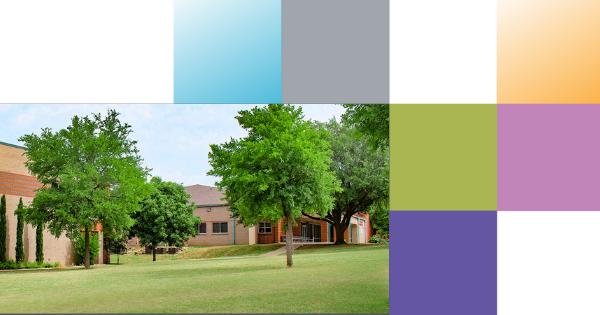 During the 2018-2019 school year, Midway Independent School District (ISD) piloted Fountas & Pinnell Classroom™ (FPC) for their third-grade literacy instruction in two of their six elementary schools. The results were so compelling that Midway ISD now uses FPC in every Kindergarten through Grade 4 classroom in the district, as detailed in the report Fountas & Pinnell Classroom™: Spotlight on Midway Independent School District.
At the pilot schools, the implementation of FPC sparked a significant increase in third grade Texas state assessment STAAR results. The scores skyrocketed by a margin of up to 30 percentage points in the rankings of Meeting Grade Level Performance and Mastering Grade Level Performance, outperforming the average scores of the four control schools as well as the state average.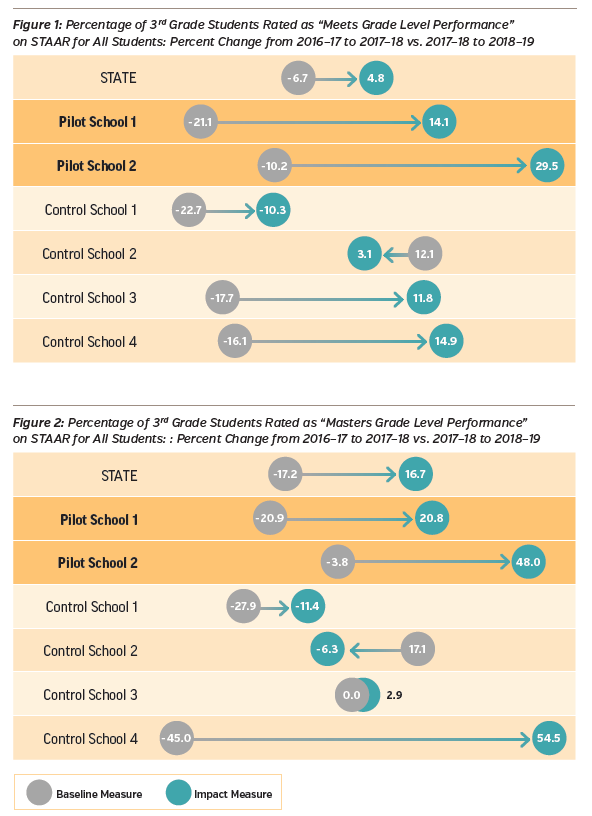 The adoption of FPC also invigorated the school system with a new sense of teacher agency. Some highlights, in the educators' own words:
"I learned so much about the process of teaching reading."
"This is our second year and it's been amazing—we're seeing amazing results."
"The lessons really are built on the way students process reading and writing."
"Students enjoy reading and talking about the books. They like being asked what they think."
Read, download, and share Fountas & Pinnell Classroom™: Spotlight on Midway Independent School District.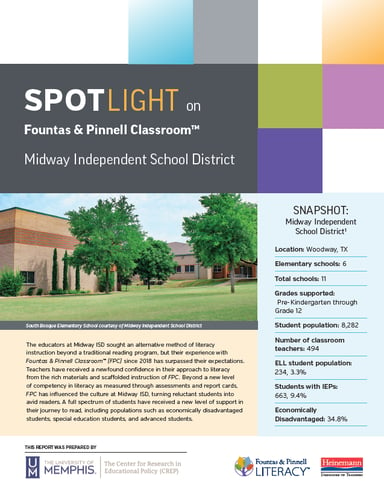 Learn more about Fountas & Pinnell Classroom™.
---
Join the fastest growing community in the field of literacy education.
Get your free membership and stay up to date on the latest news and resources from Fountas and Pinnell.
For a well-organized, searchable archive of FAQs and discussions that are monitored by
Fountas and Pinnell-trained consultants, go to our Discussion Board.
For more collaborative conversation, join the Fountas & Pinnell Literacy™ Facebook Learning Group.