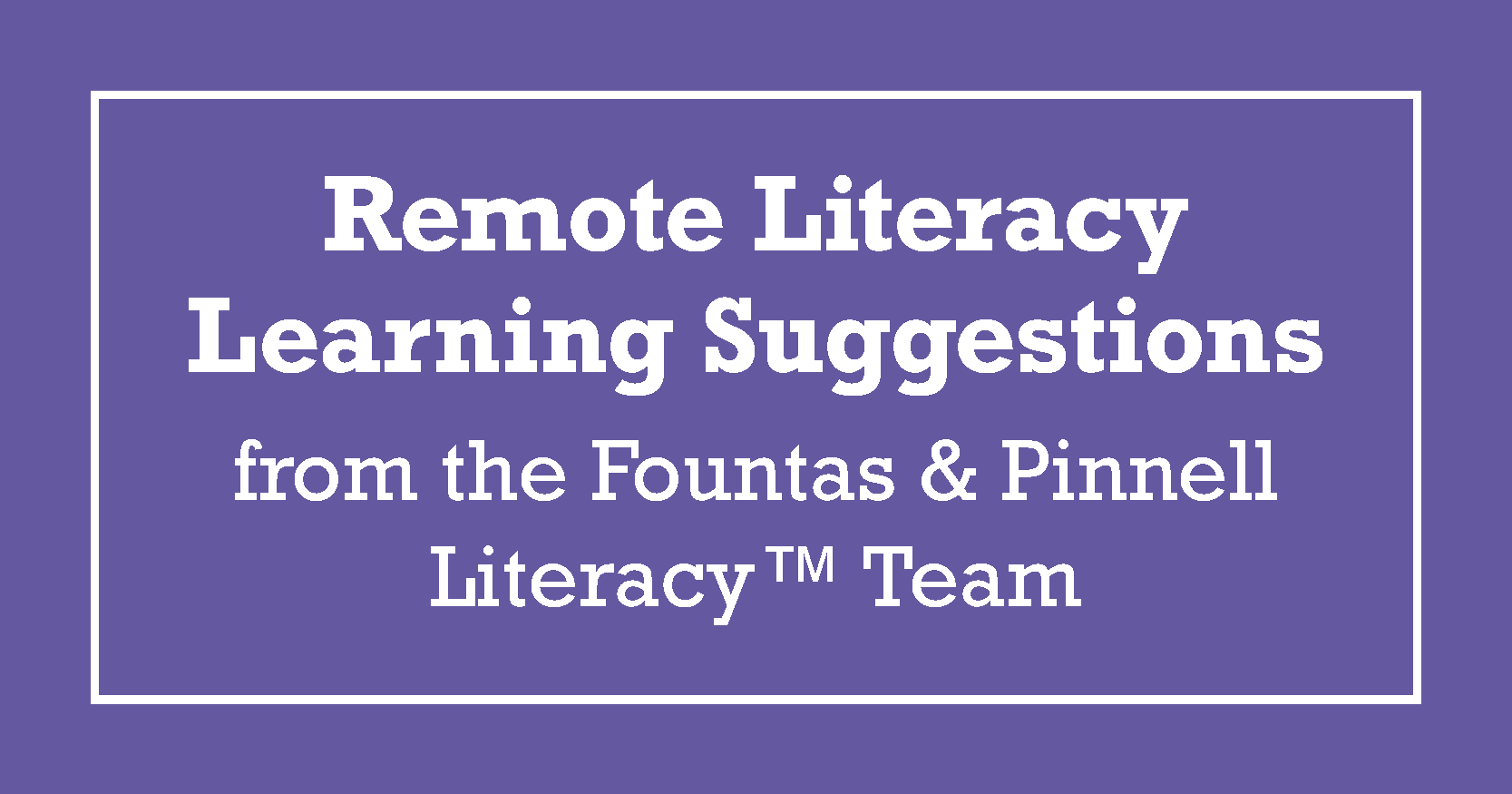 Like many of you, we have been following the developments around COVID-19 with hope and reflection and have been thinking of ways to support educators and students in this uncertain time. We know many school leaders around the country have begun preparing for, or activating, their school/district policy for remote learning. We have heard from many of you seeking advice and/or recommendations to maintain instructional continuity as much as possible in a distance learning environment. Below is a preliminary list of suggestions to ensure that children are actively engaged in literacy opportunities at home if your school is required to close for a period of time.
WHERE TO START:
Survey your teachers and school community regarding digital tools (access and availability), communication options, online access to books at home, access to platforms like Google Classroom, Seesaw, Zoom and other resources to lean on.

Collaborate as a team to ensure equitable learning opportunities for all students.

Prep teachers and students to access school databases or subscriptions to digital libraries of eBooks and audio books (some even offer free trials).

Brainstorm daily schedules that parents and caregivers can follow or adapt to maintain a routine for learning, play and creative time.

Meet and discuss a food plan for children who receive free lunch and may not have access to meals at home.

Write and send home a parent letter detailing an action plan for at-home literacy learning.

Brainstorm ways to stay connected as a teaching community and as a larger learning community with students. Some districts are utilizing video-calling platforms to hold online classes for a few hours of each school day.

Take time for professional growth and learning in digital learning communities with educators around the world. Below are some options through our website fountasandpinnell.com.

Complimentary study guides designed for deep exploration and understanding of Fountas and Pinnell's professional books.
Complimentary webinars with Fountas and Pinnell on various literacy topics.
FPC educators: Participate in the complimentary Implementation Support Online Course for Fountas & Pinnell Classroom™ located in your Online Resources.
GENERAL LITERACY LEARNING OPPORTUNITIES:
Encourage children to read daily—send books home from the school or classroom library.

Encourage children to write daily—send students' Reader's Notebook or stapled paper booklets home.

Create and send home blank books for children to fill with original poems and illustrations.

Encourage children to read and talk about the books they are reading to a family member or stuffed animal.

Have children record themselves reading daily.

Have children keep a daily log of the reading, writing, drawing, talking/thinking about books, playing, creating, etc. they are doing at home each day.

Have children keep a list of books read and write a phrase or sentence response to their reading (e.g. "This book made me laugh.")

Listen in as authors and celebrities read aloud many popular trade books:

Send children around the state, country and world via virtual field trips and virtual museum tours. Many sites offer free trials. A few to consider:
While neither Fountas & Pinnell Classroom™ or Leveled Literacy Intervention were designed for remote learning, it is important to keep children actively engaged in reading, writing, thinking and talking about books daily.
FOR FOUNTAS & PINNELL CLASSROOM™ EDUCATORS:
Leverage your Online Resources for these possible extension activities:
IRA: Encourage students to engage in an "Exploration Project" from the Inquiry Overview Cards of text sets you have already read together as a class.

IRA and SR: Engage children in additional experiences from the "Respond to the Text" section of the lesson folders to dive more deeply into their interpretation of texts previously read together.

SR: Send students home with copies of the small Shared Reading books.

GR: Send students home with "Writing About Reading" suggestions from the Guided Reading books they have read in small-group instruction.

IRA and GR: Review the nonfiction topics for Interactive Read-Aloud and Guided Reading books and send home YouTube™ links to build background knowledge.

IR: Prepare some of the "Writing About Reading Prompts" from the Conferring Cards and share with students who have previously read or plan to read the book(s) at home.

PWS: Print some games from Gamemaker and send home for children to apply/practice independently or together with family.
FOR LEVELED LITERACY INTERVENTION (LLI) EDUCATORS:
Encourage students to read aloud and talk about the books they are reading to a parent, caregiver or sibling at home.

For K-2 LLI students: Prepare to send home the Take-Home Bags with LLI Take-Home Books and students My Writing Book for children to read or reread.

For 3-6 LLI students: Prepare to send home the Student Portfolios with LLI books (create a check out system if you are able), their Literacy Notebooks and any class work to extend learning remotely.

For 3-6 LLI students: Create a plan to leverage the Novel Studies in LLI.

Review the nonfiction topics from the LLI books and send home YouTube™ links to build background knowledge.

Consult your LLI Lesson Guides for recommendations on homework that may benefit students while they are remote learning.

Print some of the games from Gamemaker that they have already taught and send home to apply/practice independently or together with family.

Encourage children to write daily.
We invite you to join the conversation and be in collaboration and community on the Fountas & Pinnell Literacy™ Learning Group on Facebook to hear ideas from other educators and to share your own ideas.
~ The Fountas & Pinnell Literacy™ Team