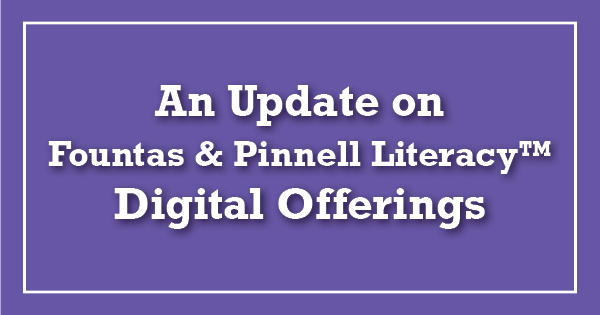 We continue to work diligently to develop a secure method to deliver books to students in ways that maintain the integrity of the original teaching resources. We remain focused on constructing a robust, subscription-based model (starting with FPC Guided Reading) that will meet present needs and lead instruction into the future.
IMPORTANT NEWS: As we work to roll out these new digital offerings, we want to ensure that you have access to the materials you need for the 2020/2021 school year. We will continue to provide temporary teacher access to the below books for verified product owners through 6/30/2021:
Fountas & Pinnell Classroom™ Guided Reading books, K-6

Fountas & Pinnell Classroom™ Shared Reading books, PreK-3

Leveled Literacy Intervention books, K-5

Phonics, Spelling, and Word Study Lesson Books (part of your PWS System), K-6
Heinemann is committed to and dedicated to you— teachers and students— no matter where you are required to teach and learn. We will stay in touch and keep you informed along the way. As always, we are grateful for your partnership and patience.
Bookmark the Fountas & Pinnell Literacy™ Remote Learning page and the Fountas & Pinnell Literacy™ blog for updates including availability dates and new product details.
…
---
Join the fastest growing community in the field of literacy education.
Get your free membership and stay up to date on the latest news and resources from Fountas and Pinnell.
For a well-organized, searchable archive of FAQs and discussions that are monitored by
Fountas and Pinnell-trained consultants, go to our Discussion Board.
For more collaborative conversation, join the Fountas & Pinnell Literacy™ Facebook Learning Group.