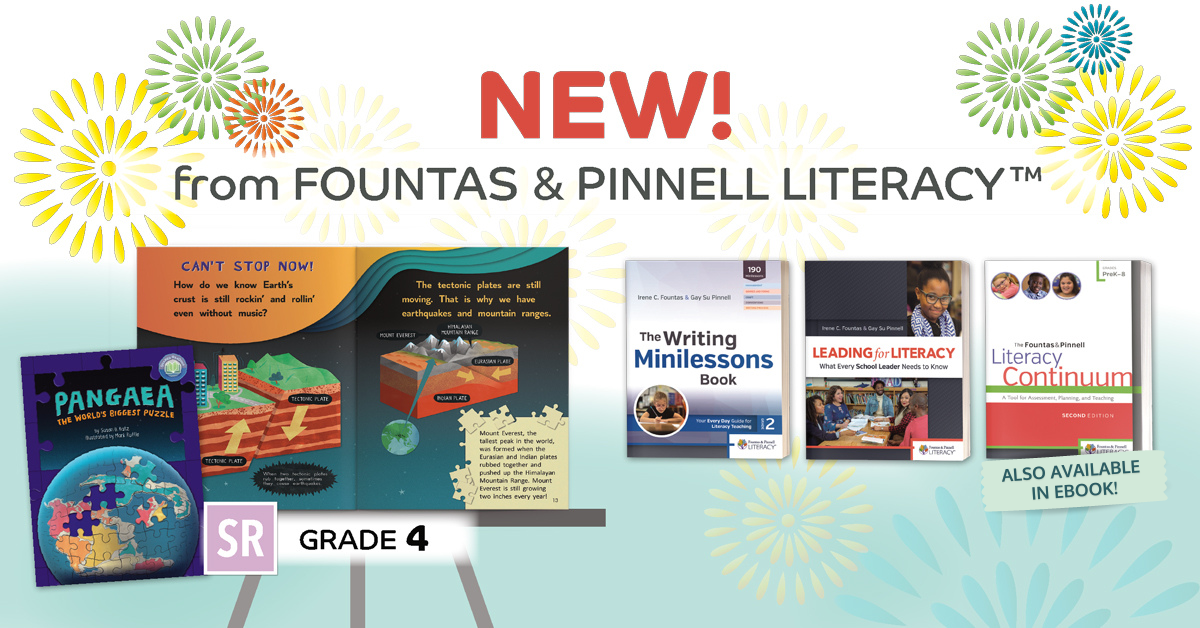 Fountas & Pinnell Literacy™ has an abundance of new offerings! From Writing Minilessons, Grade 2 to Shared Reading, Grade 4 (now available for pre-order), there's sure to be a new resource to enrich your classroom. For your convenience, here's a quick round-up of all the engaging resources that have released this season.
Preorder Now:

Fountas & Pinnell Classroom™ Shared Reading Collection, Grade 4.

Build a strong early reading foundation with books that engage and excite.

As a teacher of literacy, you transform the lives of the children in your classroom. The Fountas & Pinnell Classroom™ Shared Reading Collection ensures an enjoyable experience for your classroom community. Shared reading provides an important opportunity for children to "step up together" into more challenging texts, and to use them as mentor texts as they gain independence.

The Fountas & Pinnell Classroom™ Shared Reading Collection texts are an exquisite collection of original big books, in a variety of genres, with accompanying lesson folders. Six small copies of each book, as well as audiobooks, are provided for children to revisit during independent reading. Some of the books have special features such as flaps, cutouts, and foldouts to engage and excite children.
---
Available Now:

The Writing Minilessons Book, Grade 2

Your Every Day Guide for Literacy Teaching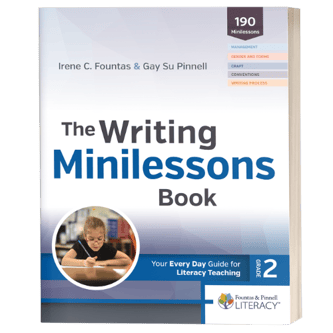 Develop children's deep knowledge of literacy concepts with these must-have writing minilessons—190 concise, explicit, whole-group lessons with a purposeful application in building children's literacy power. With The Writing Minilessons Book, engage students in inquiry that leads to the discovery and understanding of a general principle they can apply to their learning. Principles are based on the behaviors and understandings in the one-of-a-kind, market-leading Fountas & Pinnell Literacy Continuum.
---
Available Now:

Leading for Literacy

What Every School Leader Needs to Know

Leading for Literacy is an inspiring and practical resource for all school leaders—teacher leaders, literacy coaches, school administrators, and district-level leaders. Filled with useful "look-for" tools for observing literacy teaching and reflecting upon the culture and systems of your school, Leading for Literacy helps school leaders understand key principles of effective literacy teaching and create equitable communities of learning for all students.


---
Available Now:
The Literacy Continuum, Second Edition
A Tool for Assessment, Planning, and Teaching, PreK-8
There has never been a more comprehensive resource available to teachers that does what the continuum does –– provide specific behaviors and understandings that are required at each level for students to demonstrate thinking within, beyond, and about the text. These behaviors and understandings describe what students will be expected to do in order to effectively read and understand the text. More in-depth, more intuitive, and more essential than ever—The Fountas & Pinnell Literacy Continuum, Second Edition is the essential tool to guide your assessment, activate responsive teaching, and support your students on their language and literacy journey.

The Second Edition features these enhancements:
Updated Digital Communication continuum for the modern classroom
Expanded PreK continuum to reflect today's early readers
Streamlined organization and navigation
Expanded behaviors and examples across the continua
First appearance of a behavior or goal or text characteristic is indicated by a red bullet
Clear organization of and explicit links to the System of Strategic Actions
Also available in eBook format:


The Literacy Continuum, Second Edition eBook