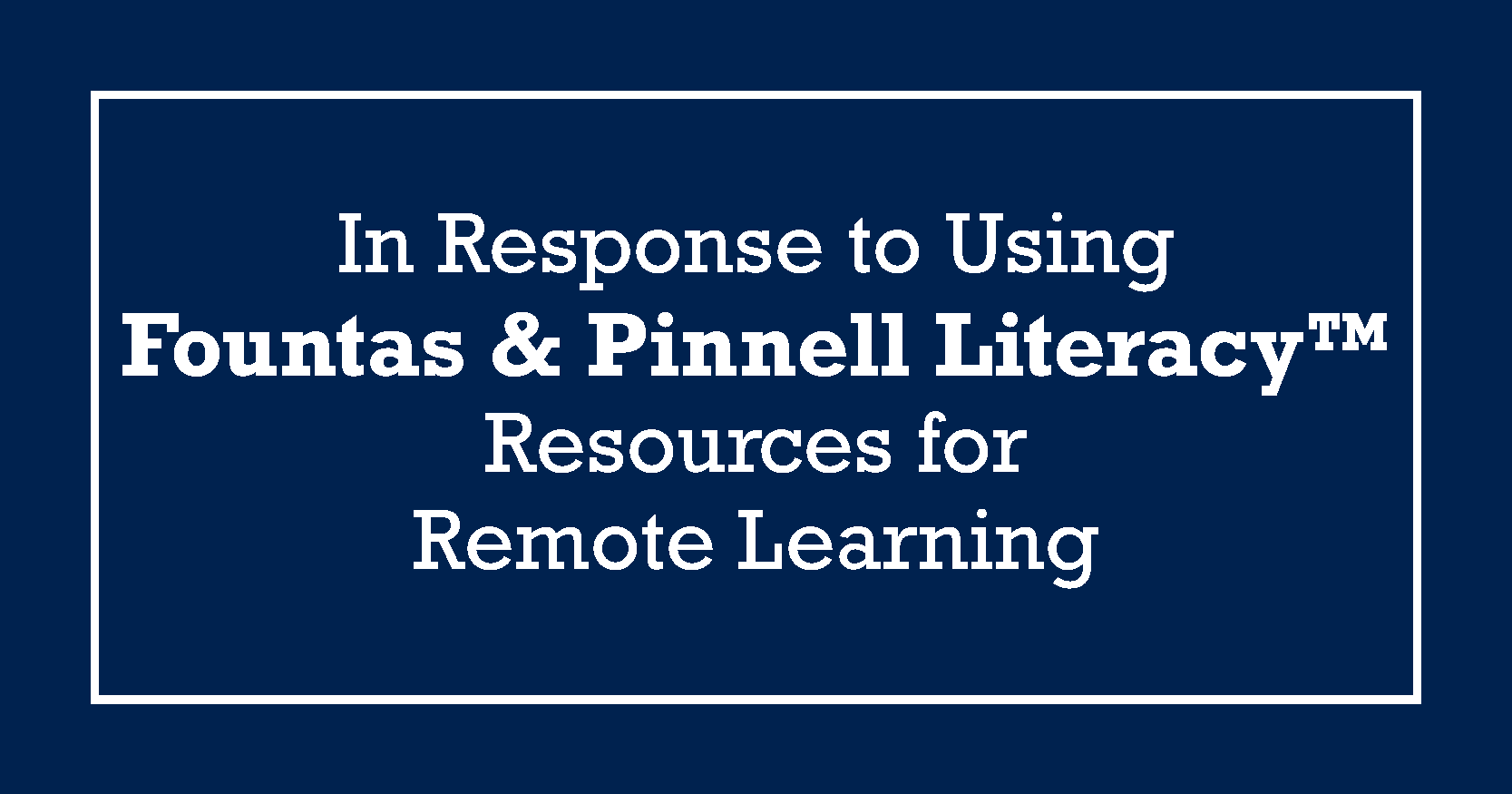 These are unprecedented times. The quick shift to remote learning has prompted many questions related to copyright and what permissions we can offer for the use of our resources in closed digital learning environments. Keeping both copyright law and the extraordinary circumstances in mind, we offer the following guidance.
FOR FOUNTAS & PINNELL CLASSROOM™ (FPC) and LEVELED LITERACY INTERVENTION (LLI) EDUCATORS
FPC Interactive Read-Aloud, Book Clubs, and Independent Reading Collections:
Each of these collections contain curated trade books from various authors and illustrators and various publishers. We do not hold the copyright to these trade books; however, many publishers and authors/illustrators have released statements regarding their copyright policy and guidelines for reading aloud in a closed platform. School Library Journal has curated a list of Publisher Responses to Copyright Policy—we recommend you consult this list as you prepare your digital learning plan.
FPC Shared Reading Collections:
You can continue to share your custom Student Listening Library URL with children so they can access the shared reading audio books remotely. Refer to your Online Resources for additional information on "Setting Up the Listening Library" and "Using Audiobooks with Students."
The shared reading books are original to FPC. We grant temporary permission for you to read aloud the shared reading books in a closed digital environment. Please follow the guidelines outlined below.
Sing a Song of Poetry and Words That Sing: Poetry Charts for Shared Reading:
The poetry in these resources was curated for FPC using poems available in public domain, therefore you can post recordings of the poems being read aloud. Please include author attribution at the start of your recordings.
Reading Minilessons (RML) and Phonics, Spelling, and Word Study Lessons (PWS):
We grant temporary permission to record your RML and PWS lessons and post the videos in a closed digital environment. Please follow the guidelines outlined below.
FPC Guided Reading Collections and Leveled Literacy Intervention:
We do not currently have a student accessible infrastructure to provide our guided reading and Leveled Literacy Intervention books on a secure digital platform. Given the unprecedented crisis, Heinemann is investigating the feasibility of alternative remote options, but unfortunately it will take time and is not guaranteed. In the meantime, we encourage you to leverage free sites for independent reading books.
DIGITAL PERMISSION GUIDELINES
By reading or recording a lesson virtually, you agree to abide by the below guidelines.
At the start of your live reading or recording, please note that you are reading or conducting a lesson from Fountas & Pinnell Classroom™ with permission from Heinemann and authors Irene Fountas and Gay Su Pinnell.
Please only share your live reading or recording in a closed digital environment for use exclusively with your students.
Please remove and delete your recordings when your district/school resumes at school learning, or at the latest, December 31, 2020. (

Please note, this date has now been extended to

June 30, 2021.)
Thank you for your continued dedication to teaching and learning. In an effort to provide additional support to you and your students at this challenging time, we have daily tips/suggestions on our blog. In addition, we invite you to continue the conversation and stay connected on the Fountas & Pinnell Literacy™ Learning Group on Facebook.
~The Fountas & Pinnell Literacy™ Team
…