*This is the third in a series of blogs about The Fountas & Pinnell Literacy Continuum. Don't forget to read last week's blog on What is The Literacy Continuum? Read on to learn more about how to use it.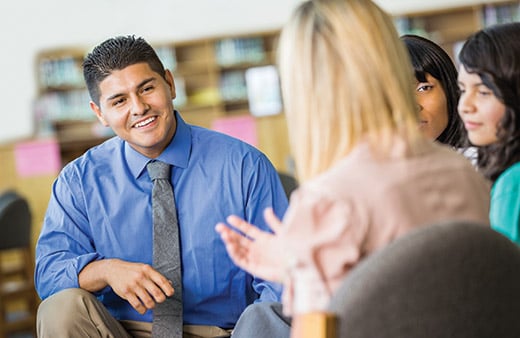 Fountas and Pinnell strongly believe that schools should be a community of learners, not an educational factory. The classroom is much more than a place where children learn to read and write. "It's a laboratory where they learn how to be confident, self-determined, kind, and democratic members of a community," (Fountas and Pinnell 2017). In order to create a community, you need a common language. When everyone uses the same language, a collective conversation occurs, and that's exactly what The Literacy Continuum does: provides a common language.
Here are the many different ways in which The Literacy Continuum can be used and who can use it to work toward building a school into a community of readers and writers:
Principal and Leadership Team
Since the principal and leadership teams are the key to teachers' support systems as they grow in conceptual understanding of their work, it is vital to have a common language. The Literacy Continuum can be used along with teachers to discuss their common expectations for students' achievemen in each curriculum area, grade by grade. They can use it to review the progress of individual students in the classroom, in intervention, and in special education, and share their perspectives with teachers of other grades. "The continuum is intended to provide teachers with a conceptual tool that they can use to think constructively about their work. We want to support them in crafting instruction that will link their observations and deep knowledge of their own students with learning over time," (Fountas and Pinnell 2017).
The Classroom Teacher
The classroom teacher can use The Literacy Continuum as a foundation for teaching. "As you think about, plan for, and reflect on the effectiveness of providing individual, small-group, and whole-group instruction, you may consult different areas of the continuum," (Fountas and Pinnell 2017). There are two sections within the guided reading, interactive read-aloud, shared reading, and writing about reading continuum. One section is to help guide teachers in selecting the texts they'll use for various purposes, and the other section, which is in each continuum, is a list of behaviors and understandings used to plan text introductions, guide observations and interactions with individuals, and shape teaching decisions.
Interventionist or Special Education Teacher
The school's interventionist or special education teacher can use The Literacy Continuum to assess the gap that students need to bridge to catch up to grade-level expectations. They can use the continuum to select texts that have the highest potential for accelerated progress. Then, through observation of behaviors and understandings, they can use it to assess their students' reading progress and the effectiveness of the teaching. "Assessment and observation will help you identify the specific areas in which students need help. Use the continuum to find the specific understandings that can guide intervention," (Fountas and Pinnell 2017). With all good intervention, communication with the classroom teacher is important. If you're both using the continuum, you'll both be speaking the same literacy language.
Literacy Coach
A literacy coach can use The Literacy Continuum as a foundation for coaching conversations. "It will be useful for coaches to help teachers become able to access information quickly in their copies of the continuum as part of their reflection on lessons they have taught and on their planning," (Fountas and Pinnell 2017). The literacy coach and the teacher can work together, using the continuum, before, during, and after the observation of a lesson. The coach can use the language in the continuum to focus the conversation with the teacher on critical areas of teaching and learning. When the teacher is also using the continuum, they are both speaking the same language, which adds specificity to the conversation that will extend teachers' understanding of learning processes and development over time.
Librarian
School librarians can use the continuum to select a range of texts on interesting topics and content areas. For example, librarians can refer to the continuum to help teachers find what books might be appropriate for interactive read-aloud, and help them build text sets for connected learning. They can use it to assist teachers in finding books at appropriate levels for students as well.
The Literacy Continuum isn't just for the classroom teacher. Everyone in the school can use it to work toward a common language, which will lead to a coherent community. "When you and your colleagues teach for the same behaviors and understandings, your students will benefit from the coherence," (Fountas and Pinnell 2017).
~Jill Backman, Fountas & Pinnell Marketing Manager
Join the fastest growing community in the field of literacy education. Get your free membership and stay up to date on the latest news and resources from Fountas and Pinnell at www.fountasandpinnell.com
For a well-organized, searchable archive of FAQs and discussions that are monitored by Fountas and Pinnell-trained consultants, go to our Discussion Board at www.fountasandpinnell.com/forum
For more collaborative conversation, join the Fountas & Pinnell Literacy™ Facebook Learning Group at https://www.facebook.com/groups/FountasPinnell/
References:
Guided Reading: Responsive Teaching Across the Grades. © 2017 by Irene C. Fountas and Gay Su Pinnell. Portsmouth, NH: Heinemann.
The Fountas & Pinnell Literacy Continuum. © 2017 by Irene C. Fountas and Gay Su Pinnell. Portsmouth, NH: Heinemann.