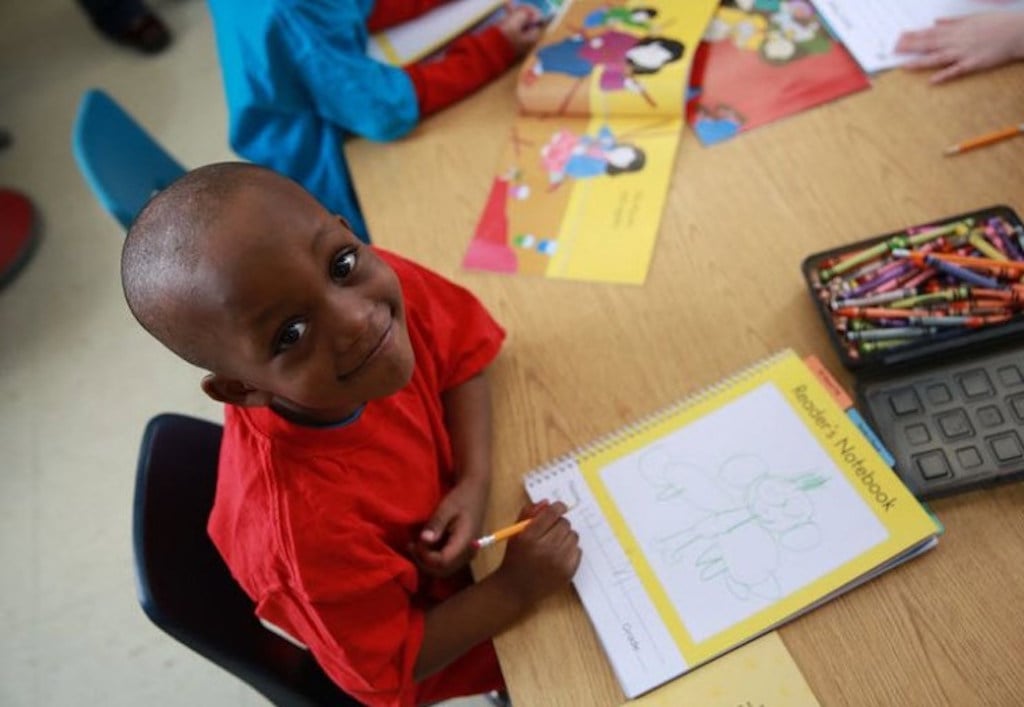 In 2012, as the result of ongoing data collection, changes were made to the recommended grade-level goals on the F&P Text Level Gradient™. Instead of kindergarteners completing the grade at an instructional level C the gradient shows them exiting at an instructional level D. Since this change, many kindergarten teachers struggle with how to meet this goal. But it's important to know that it is possible! Below are some suggestions on how to accomplish this goal in practical ways that also instills an absolute joy of reading and writing.
A Literacy-Rich Day
Literacy should be woven through everything you do from the minute your children walk in the door. For example, as soon as children arrive for the day, they fall into a routine of finding and flipping over a name card in a pocket chart to indicate attendance. Then they sign their names in response to a question on a class-size piece of paper before going to an opening circle. The question and talk around the responses can then begin the opening circle. So just in walking in the door and getting to circle, children have been exposed to letters, sounds, opinions, writing of their names (letter formation), and talk supporting an opinion.
Interactive Read-Aloud
Through interactive read-aloud, we teach children to think and share using books that not only instill joy but provoke conversation. We model for children how to use pictures to make predictions and connections, as well as infer how characters are feeling or what is motivating their actions. We also model language, language structures, and how to talk about books, scaffolding children who have limited language.
Shared Reading
In shared reading, we begin to show children how print works using books with enlarged text that have wonderful illustrations and language that pull the children in. These books are designed for children to be able to read them with support after having heard them read at least once. We bring attention to letters and sounds; concepts of print, such as left to right; phonological awareness with a focus on hearing rhymes, syllables, and words; and, later, focusing on individual sounds with attention to building a bank of high-frequency words and comprehension.
Shared and Interactive Writing
Shared and interactive writing should also be an important part of the daily routine. In shared writing, children see what it looks like to be a writer as they contribute to the thinking that goes on the page. This might be a shared experience or response to something read or a story the children are composing together. It can be as simple as a list of some kind or labeling of an illustration. You are writing out loud, saying what you are doing as you are doing it, and giving your children opportunities to choose words, practice language structures, and see and hear how letters are formed.
Writing Workshop
Writing workshop will give children an opportunity to practice what you are doing in shared and interactive writing. And though it may begin with only drawing, it will build as they have daily lessons in writing through your shared and interactive writing.
Observation
Your observations from all of this work will lead to differentiation in small-group work leading toward guided reading. In small group, you can differentiate with fun tasks and lessons in letter/sound correspondence, phonological awareness, letter formation, and, later, high-frequency words. You can even do small group shared reading for those who need more practice in a book previously used.
Rely on the Resources
We have to depend on the resources we have available in order to reach the goal of getting children to level D. The most important resource we can use is The Literacy Continuum. Through using this valuable resource on a daily basis we can truly understand the many stepping stones that lead to the goal of level D. Become familiar with the goals of text levels A–D. Read the snapshots carefully at the beginning of each level description. Note the characteristics that change from level to level.
Other valuable resources include Literacy's Beginnings, which is a wonderful text that describes what a literacy-rich kindergarten classroom looks and sounds like, and the new Fountas & Pinnell Classroom™ Kindergarten System, which includes materials to support teachers and administrators in providing a literacy-rich kindergarten appropriate to the 21st century.
We still have many young children entering kindergarten with no literacy knowledge, but that doesn't mean they are struggling or that learning will be hard for them. It often means they haven't had the opportunity. We have to provide those opportunities with a goal of kindergarten being fun but embedding learning within the fun and making every minute count.
Read HERE about the rationale behind the changes to the F&P Text Level Gradient™.
~The Fountas & Pinnell Literacy™ Team
Join the fastest growing community in the field of literacy education. Get your free membership and stay up to date on the latest news and resources from Fountas and Pinnell at www.fountasandpinnell.com
For a well-organized, searchable archive of FAQs and discussions that are monitored by Fountas and Pinnell-trained consultants, go to our Discussion Board at www.fountasandpinnell.com/forum
For more collaborative conversation, join the Fountas & Pinnell Literacy™ Facebook Learning Group at https://www.facebook.com/groups/FountasPinnell/