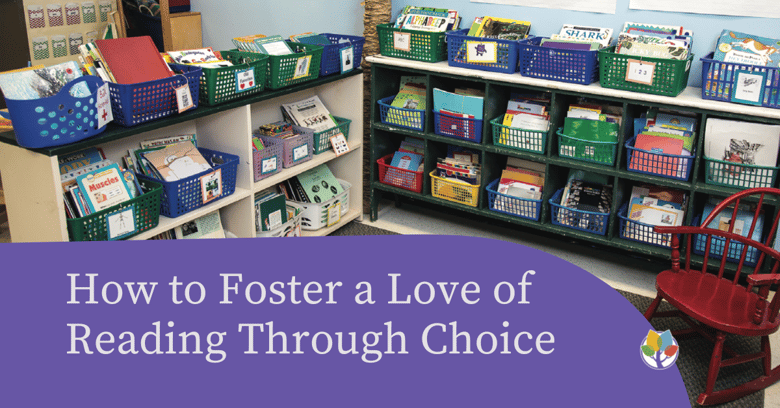 We want our students to love reading books. We want them to go over to a bookshelf, choose a book that interests them, and dive in with gusto. The ability to choose books that are engaging and accessible is a vital part of developing a passion for books and a strong identity as a reader.
Here are some ways you can foster that love through student CHOICE.
Organize your library in ways that are meaningful to readers
Selecting books by text level is not an authentic way to choose books. While text levels might be a resource to support teachers in guiding student book selection, text level labels do not belong in the classroom library. Text levels should never be used as a limitation or a requirement when it comes to independent reading. The classroom library should include attractively displayed books in a variety of genres and topics that are appealing, culturally sustaining, and relevant to the age group. Try organizing different topics, authors, illustrators, genres, and award-winning books into bins with the titles facing out so that students can sort through them. Clear and meaningful organization supports independence and builds ownership.


Help readers choose
Initially, students may not know how to choose books well, so you will want to teach them how to think about selecting a book that works best for them. By observing readers throughout the day, you will get to know their interests. Help them notice and name their preferences. Get very familiar with as many books as possible in your independent reading collection so that you can make recommendations. Make time for readers to examine covers, blurbs, and illustrations. Teach them how to sample a bit of the text. Let them get a feel for the author's style. Entice them with intriguing book talks. Support readers in thinking about how a book matches their reading backgrounds and experiences. Spend time teaching readers about choosing books through explicit reading minilessons.
Create a personalized environment for independent reading
Think about your own experience with reading for pleasure. Do you have a special spot where you always keep the book you are enjoying? Do you get cozy in your favorite chair? Do you keep a journal nearby to capture your thoughts? Try to recreate this authentic experience for your students. Consider giving them flexible seating options. Let them store their books, Reader's Notebook, some sticky notes, and a pencil in a special box that is ready to grab whenever they have time to read. Add lamps with warm lighting into your classroom design. Create an environment where readers can lose themselves in the book that they choose for themselves.
Help readers reflect on their reading
Support students in exploring their identity as readers. Teach them how to note their experiences as readers in their Reader's Notebooks. Give them opportunities to share their thoughts and opinions with peers about topics, genres, and authors. Let readers share their favorites through book talks. Confer with them regularly about their choices.
Within a classroom that takes a multi-text approach to literacy learning, all your efforts towards teaching students about letters, sounds, and words, towards helping them build fluency, and towards facilitating meaningful discussion is in done to support readers who can think critically and who have a lifelong love of reading. Each time a student is given a chance to choose a book is an opportunity to move closer to this goal.