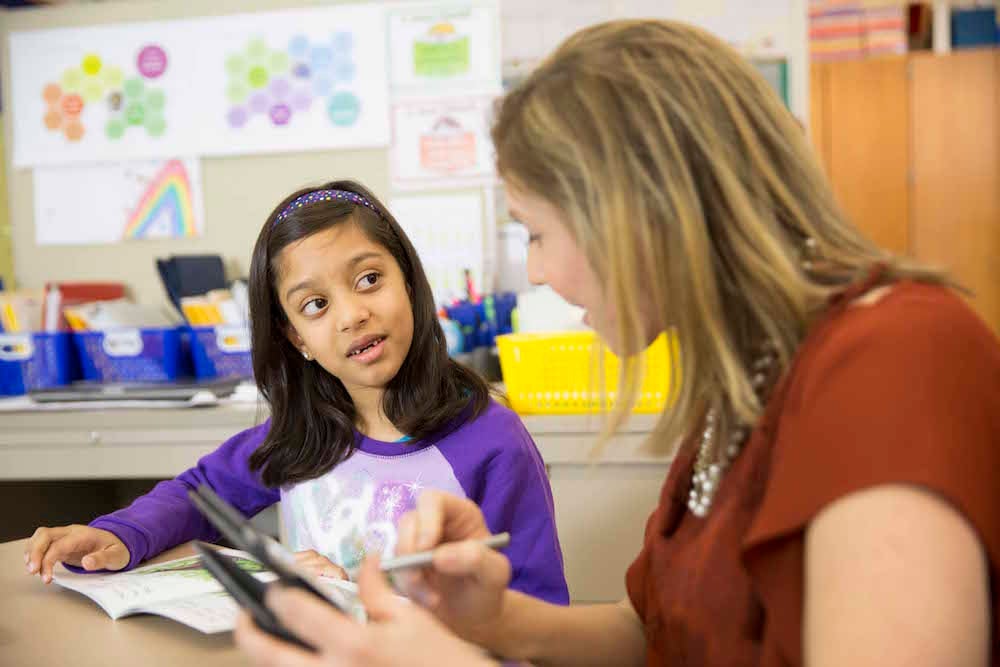 Students' talk reveals their thinking, which helps you know them as learners. One-on-one assessment is a great time to talk with students to learn their thinking, because what they're thinking will inform your instruction. Without talking to them and learning where they are, there's no way to know how to bring them forward. It's for this reason that the Comprehension Conversation is vital to assessment.
The Fountas & Pinnell Benchmark Assessment System stands out from other assessment systems because it incorporates a rigorous and important Comprehension Conversation. The purpose of this Comprehension Conversation is to enable teachers to sharpen their observation of students' reading behaviors by hearing their thinking through talk and strengthen the connection from assessment to instruction. Here's how.
Reading is complex
Reading is a highly complex process that requires students to bring together their own knowledge with the print on the page. When students read, they use in-the-head systems of strategic actions to process texts, flexibly integrating many different kinds of information in order to construct meaning. You cannot see strategic actions, but you are able to observe reading behaviors and infer what readers are able to do as they think their way through a text. Students' talk during the BAS Comprehension Conversation reveals their thinking.
How it works
In Part 1 of the BAS assessment, the student reads aloud a precisely leveled fiction or nonfiction book while the teacher observes and notes the reader's behaviors. In Part 2, the teacher conducts a conversation with the reader to determine how well he or she comprehended the text; beyond a simple retelling. This unique approach not only gathers data about what students understand about a text, but it also provides an opportunity for teachers to get to know their students-a valuable use of time, especially at the start of the school year. During the conversation, teachers will prompt the student, but the goal is to have a flow of back-and-forth talk, with the student doing as much of the talking as possible. It is in these conversations that the student's thinking is revealed.
Key understandings
Key understandings that the teacher should look for during the Comprehension Conversation are provided in Part 2 of the assessments. These key understandings are based on the goals and behaviors from The Fountas & Pinnell Literacy Continuum. The twelve systems of strategic actions are clustered into three categories that encompass how readers construct meaning as they process a text: thinking within, beyond, and about the text. So while you are giving the assessment you can note which of the understandings the students pinpoint and which ones they don't.
What next?
Now that you've identified in which areas the student needs instruction, you can weave that into your teaching. Since the goals and understandings that you've identified come from The Literacy Continuum, it would be ideal to also have instructional material that also aligns with those goals. For those students who may need extra instruction, the Leveled Literacy Intervention System is a good option as the goals in each lesson are taken from The Literacy Continuum. And for your small-group and whole-group instruction, as well as partner and individual work the lessons in Fountas & Pinnell Classroom™ are designed around the goals in The Literacy Continuum.
Reading is thinking, and a student's talk about what they've read is evidence of that thinking. Skilled observation of literacy behaviors enables teachers to understand how their students can "think their way" through a text. The Benchmark Assessment System Comprehension Conversation is a key tool for gaining this behavioral evidence of students' thinking.