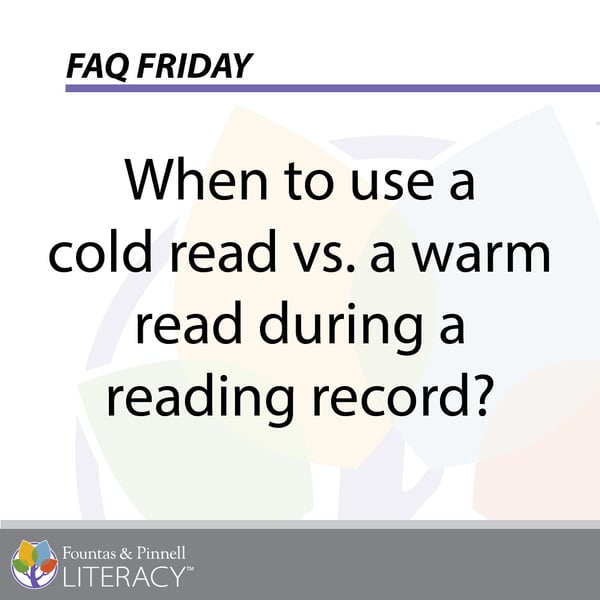 Q: When to use a cold read vs. a warm read during a reading record?
A: Cold read: The 'cold read' is a reading record conducted on an unseen text. It is used at intervals such as fall, winter and spring (e.g. Benchmark Assessment System). A cold read of a text is the most accurate, efficient, and conservative way to assess a student's current reading ability. That is, you learn what the student can do without teaching.

Warm read: The 'warm read' is a reading record taken of a book read the previous day with instruction. It is used as a progress monitoring tool that gives you an ongoing check on the student's response to your teaching (e.g. Leveled Literacy Intervention and guided reading instruction). The measure is a good indication of how the student is taking on new literacy behaviors and applying what they are learning to reading texts. Since this is a second read, you would expect higher accuracy and improved fluency.

To read more about reading records, see the white paper: The Role of Recording Forms Across the Fountas & Pinnell Literacy™ Brand by Irene Fountas and Gay Su Pinnell:

To see more FAQs or get answers to other questions from a trained consultant, please visit the Discussion Board!