*This is the second in a series of blogs about The Fountas & Pinnell Literacy Continuum. Don't forget to read last week's blog on the Systems of Strategic Actions, an essential part of The Literacy Continuum. Read on to learn more.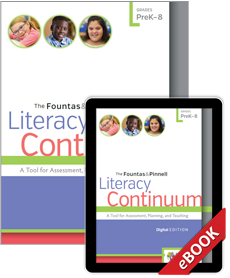 You may have seen The Literacy Continuum on a colleague's desk, flipped through it, and put it back down. You thought you were picking up a regular professional book, but what you found was a dense, flurry of words and colors that might as well have been in Greek. You were right about one thing: it is not a regular professional book. It is THE essential tool for elevating your language and literacy expertise.
Think of The Literacy Continuum as a roadmap. It's a tool to help you meet students where they are and lead them to where they need to be. It's meant to help guide your assessment through observation, which would then inform your teaching. Your observations show you where their literacy skills sit on the "map," and will lead you to the correct route to take for the next step in instruction. This essential tool is comprised of eight continua, each focusing on a different aspect of Fountas and Pinnell's learning and literacy instructional framework contributing in different yet complementary ways to students' reading, writing, and language processes. Here's how:
Reading Process
Four of the eight continua address reading: interactive read-aloud, shared and performance reading, guided reading, and writing about reading. Within these four continua, you will find a list of behaviors and understandings that students should be showing at each grade or reading level on the F&P Text Level Gradient™. The behaviors are organized according to the Systems of Strategic Actions for thinking within the text, beyond the text, and about the text. All of these strategic actions should be going on in the readers' heads simultaneously as they process texts. As they move along in grades and levels, students expand their systems of strategic actions by meeting the demands of increasingly complex texts.
As you work with the continua related to reading, you will see a gradual increase in the complexity of the kinds of thinking that readers do. Most of the principles of learning cannot be pinpointed at one point in time or even one year. You will usually see the same kind of principle (behavior or understanding) repeated across grades or across levels of texts; each time remember that the learner is applying the principle in a more complex way to read harder texts.
Communication
The three continua about communication are writing, oral and visual communication, and technological communication. Whereas the writing about reading continuum is an excellent approach to helping students extend their thinking, it does not take the place of specific instruction that is devoted to helping students develop as writers. Through the writing workshop, teachers help writers continually expand their learning of the craft, conventions, and process of writing to communicate meaning to an audience. The oral and visual communication continuum was created to focus on the broader area of communication beyond the printed word in listening and speaking, and presentation. In the technological communications continua, there are descriptions of specific goals for helping students find effective ways to use technology effectively for learning, communication, and research. We cannot know exactly the kinds of communication skills that will be important in 2020 and beyond, but equipping students with the foundational competencies in listening, speaking, reading, writing, and technology will allow them to take advantage of new opportunities for communication.
Phonics, Spelling, and Word Study
For each grade in this continuum, you will find specific principles related to the nine areas of learning that are important for grades PreK–8: early literacy concepts, phonological awareness, letter knowledge, letter-sound relationships, spelling patterns, high-frequency words, and word-solving actions. It is drawn from the longer continuum published in the Fountas & Pinnell Comprehensive Phonics, Spelling, and Word Study Guide. Students not only need to acquire phonics and word analysis understandings, but also they need to apply these understandings daily to reading and writing continuous text. This volume shows how, over time, learning builds on learning. It is designed to help you think analytically about this complicated area of learning and be more precise in your planning and teaching for phonics, spelling, and word study.
How is it different from the previous edition?
You may be familiar with the previous edition, The Continuum of Literacy Learning. The basic descriptions of text characteristics and behaviors and understandings are still there, but the descriptions are more precise. It's easier on the eyes and arranged in a way that you can spend less time thinking about where on the Systems of Strategic Actions your student's behaviors lie, and spend more time knowing how to instruct them.
The key differences are:
Streamlined organization
Expanded behaviors and examples across the continua
First appearance of a behavior or goal or text characteristic is indicated by a red bullet (behaviors are acquired and then elaborated over time)
Clear organization of and explicit links to the Systems of Strategic Actions
Four-color design for clarity and focus
This document holds these precise details in a way that serves as a reference for teaching. In this way, it serves as a curriculum guide to use in observation, planning, teaching, and reflecting, always asking, 'What are my students showing that they know and can do?'
Log in next week to read about who is The Literacy Continuum for? And how is it used?
~The Fountas & Pinnell Literacy™ Team
---
Join the fastest growing community in the field of literacy education. Get your free membership and stay up to date on the latest news and resources from Fountas and Pinnell at www.fountasandpinnell.com
For a well-organized, searchable archive of FAQs and discussions that are monitored by Fountas and Pinnell-trained consultants, go to our Discussion Board at www.fountasandpinnell.com/forum
For more collaborative conversation, join the Fountas & Pinnell Literacy™ Facebook Learning Group at https://www.facebook.com/groups/FountasPinnell/