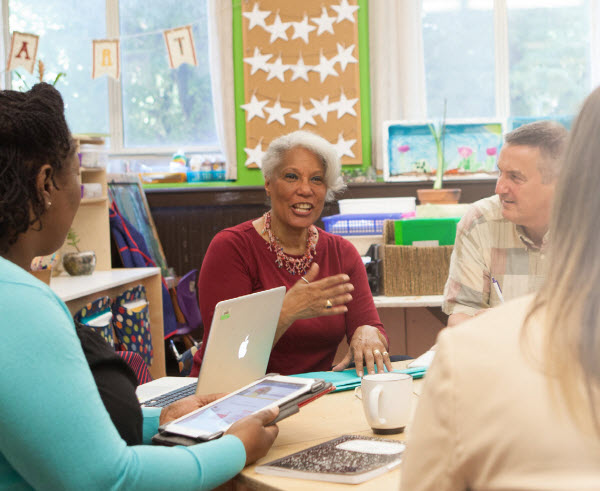 Teacher expertise is at the heart of student achievement. Continuous professional learning using a rich variety of resources and opportunities is crucial to elevating that teacher expertise. Materials themselves help teachers grow professionally, but alongside that, teachers need good professional learning opportunities. Professional learning refreshes, inspires, excites, and makes the work come alive.
Professional learning gives you renewed energy. It strengthens instructional decision making, empowers teachers with the latest in literacy thinking, transforms teaching and learning, and invokes a culture of collegiality and teacher expertise. Read on to learn more about the benefits of professional learning, as well as the variety of opportunities that are available to you and your colleagues.
The Importance of Collaboration
Perhaps the most valuable aspect of professional learning and development is the talk and problem solving that takes place between colleagues. Through regular, planned professional learning opportunities, you and your fellow teachers can further develop your craft, strengthen your instructional decision-making, and confidently deliver high-impact literacy instruction that enhances the learning experience of each student.
The Benefits to Your Students
The single most important factor in students' literacy success is skillful, informed teaching. Student achievement rises dramatically when teachers work in climates of collegiality and continual improvement. Through regular collaboration with your colleagues you create a common vision, common goals, and a common language, which will transfer over to your students making learning more concise and focused. Teacher expertise is the only way to raise student achievement.
Professional Learning Opportunities
While all of the Fountas & Pinnell Literacy™ books, resources, and systems are deeply rooted in teacher professional learning, the following opportunities are available to further develop that teaching craft and foster a climate of collegiality and community.
OFF-SITE Each year, educators from around the world join Fountas and Pinnell and their consultants, in multi-day professional learning institutes, and leave with renewed energy and understanding that will inform their teaching all year.
ON-SITE On-site, school-based seminars are developed by Fountas and Pinnell and delivered by expert consultants who are selected and trained by the authors.
ONLINE Led by Fountas and Pinnell-trained consultants, each Webinar Series consists of a series of four interactive sessions. In addition, our self-paced On-Demand Mini-Courses explore some of the foundational ideas behind Fountas and Pinnell's work.
THE FOUNTAS & PINNELL LITERACY™ COMMUNITY Join the thousands of educators from around the world on one of the fastest-growing online literacy communities and gain exclusive access to tools, resources, conversations, videos, tips, inspiration, and much more.
FOUNTAS & PINNELL LITERACY™ LEARNING GROUP Through this highly active Facebook community, you can connect, converse, ask questions, and share stories on how you've implemented your favorite Fountas & Pinnell Literacy™ resources in the classroom.
The beginning of the school year is a great time to meet with your colleagues to determine the goals for the school year and to encourage new learning opportunities. Take the time to gather and determine what your hopes are for this year: what will this school year look like, feel like, and how will you work together and learn together as a community? Lean on each other and on your own expertise to make the decisions about your students that only you can.
Encourage collaboration and team building this school year. Imagine the power of unity that occurs after participating in a learning activity as a community. Imagine how professional learning can place each educator on the same page, and how that learning can transform a district into one that works together. The 2019-2020 school year is the year to embrace community, new opportunities, and the power of professional learning.
Schedule professional learning early in the school year in order to create a cohesive learning community, and in order to stay aware of the latest research-based thinking. Use this year to learn together, and to put the power back into your teaching.
~The Fountas & Pinnell Literacy Team
**This post was originally published on May 17, 2018 and was last updated on September 13, 2019**