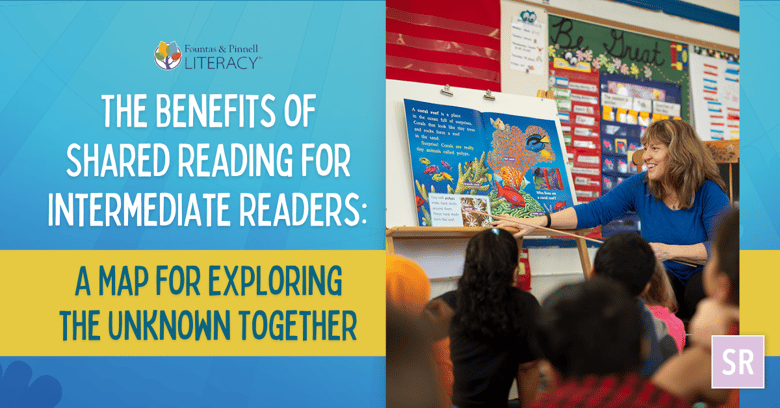 We rely on maps to take us to places we have never been before. We know that they have been drawn by people who have expert knowledge of the terrain that lies ahead, so they help us feel confident about where we are going and what to expect along the way.
Think of the shared reading experience as a map for intermediate readers. During shared reading, the teacher invites students to engage with an enlarged text that is more challenging in some ways than the texts they read independently. The students explore the text together through repeated readings.
While shared reading plays a vital role in supporting young children with looking at print, establishing strong foundational skills, taking on early literacy concepts, more advanced readers also experience many benefits. Shared reading allows teachers and their intermediate students to explore and map new areas of literacy learning together so that they have the direction they need as they travel the roads to independent, proficient reading.

Shared reading helps students navigate the landscapes of genre and forms.
As their proficiency grows, students explore new genres and forms. Understanding what conventions to expect from each genre supports comprehension. While interactive read-aloud includes opportunities for students to learn more about genre and forms, the enlarged print used in shared reading allows them to see some of the conventions with their own eyes. For example, students might notice how colons are used in a script to show who is speaking, or how line breaks and paragraphing can help readers follow a conversation between characters with unassigned dialogue in narrative fiction.


Shared reading helps students navigate the underlying text structures of nonfiction and the conventions of narrative storytelling.
With new genres come new structures. Through the support of a teacher and their peers, students have many opportunities to map out and name nonfiction text structures (like compare and contrast, chronological sequence, problem and solution, and cause and effect, etc.) and narrative storytelling structures (like linear chronological structures, parallel plots, flashbacks, flash forwards, stories within stories, etc.). As they analyze and critique texts, they begin to understand how these frequently traveled pathways contribute to their understanding and engagement.


Shared reading helps students navigate the terrains of new craft techniques, literary language, and text features.
The author's and illustrator's craft decisions, literary language, and the use of text features contribute to increased text complexity and increased cognitive demands on readers. Shared reading provides many opportunities for students and teachers to map and name the techniques that authors and illustrators use to make texts interesting, beautiful, specific and engaging. Discussion of these techniques builds academic language, improves comprehension, and influences student writing.


Shared reading helps students maintain fast, efficient movement through texts while navigating new challenges together.
For more experienced readers, shared reading continues to offer many of the same benefits that it does for the youngest readers. As texts become more challenging, all readers benefit from continued opportunities to apply and strengthen word analysis skills, to expand vocabulary, and to improve all dimensions of fluency including rate, word stress, pausing, phrasing, and intonation.
While independence is the goal of all reading instruction, shared reading emphasizes that the journey down an unfamiliar path is best made together, with guidance from someone who already knows the way.
There's more to learn about Shared Reading!
Browse our Shared Reading Collection, PreK-4 below!