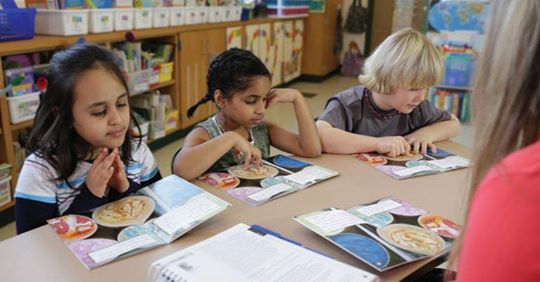 It is midway through the year, and by now you might be observing that some of your students are falling behind their peers in reading. Even with many high-quality literacy opportunities, some students struggle with literacy learning and need intervention to get them back on track. The goal of Fountas & Pinnell's Leveled Literacy Intervention System (LLI) is to give students the boost they need to read at the same level as their peers and fully benefit from classroom instruction.
What is LLI?
LLI is a rigorous, small-group, supplementary literacy intervention system for students who are not achieving grade-level expectations in reading and writing, and are not receiving another form of literacy intervention. The LLI systems are designed to bring students from the earliest level A (kindergarten level) to level Z, which represents the competencies needed at a middle and high school level.
How does LLI work?
LLI is based on the F&P Text Level Gradient™. Each level of text makes increasing demands on the reader, but the demands and resulting changes are gradual. By actively participating in intensive lessons on each level using original, authentic, high-quality books, readers have the opportunity to expand their reading and writing abilities. With the support of instruction, they stretch themselves to read more complex texts with accuracy, fluency, and comprehension. The goals of each lesson are taken from The Literacy Continuum—a must-have tool when using LLI because not only are the goals derived from there, but you can refer to it to determine where to take your students next. With these goals in mind, students effectively engage in the reading and writing process every day.
Does LLI work?
Recently the What Works Clearinghouse™ (WWC) has reviewed the research on LLI, finding positive impacts on general reading achievement for students in grades K–2. These findings are based on two independent, empirical studies conducted by The University of Memphis's Center for Research in Educational Policy (CREP).
How long does LLI take?
Lessons must be frequent—five days a week is preferred—so that readers can gain and sustain momentum and acceleration is possible. For the greatest impact in short-term intervention, we recommend a teacher-to-student ratio of 1:3, 30 minutes per day for children in grades K–2 and a teacher-to-student ratio of 1:4, 45 minutes per day for students in grades 3–12. For the systems used in grades K–2, we estimate that success will be evident in 14 to 18 weeks, and 18 to 24+ weeks for the systems in grades 3–12.
Who administers LLI?
Providing excellent intervention lessons depends on the expertise of teachers. The teachers of struggling readers and writers should be exceptionally skilled in systematic observation, in the assessment of reading behaviors, and in teaching for the range of strategic actions that proficient readers use. All teachers of struggling readers (classroom and intervention teachers) need opportunities to continually increase their understanding of the reading and writing processes and the behavioral evidence that reveals competencies. The expert intervention teacher is able to make effective decisions that meet the diverse needs of students.
Remember that progress is not enough; struggling readers need to make faster progress than their peers, and that is the whole purpose of intervention. They may be disengaged or bored. They may work diligently at mechanical tasks that they do not connect in a lively way to real reading and writing. To be effective, the intervention lessons must incorporate everything we know about what students need to learn, especially those who are experiencing difficultly.
Join the fastest growing community in the field of literacy education. Get your free membership and stay up to date on the latest news and resources from Fountas and Pinnell at www.fountasandpinnell.com
For a well-organized, searchable archive of FAQs and discussions that are monitored by Fountas and Pinnell-trained consultants, go to our Discussion Board at www.fountasandpinnell.com/forum