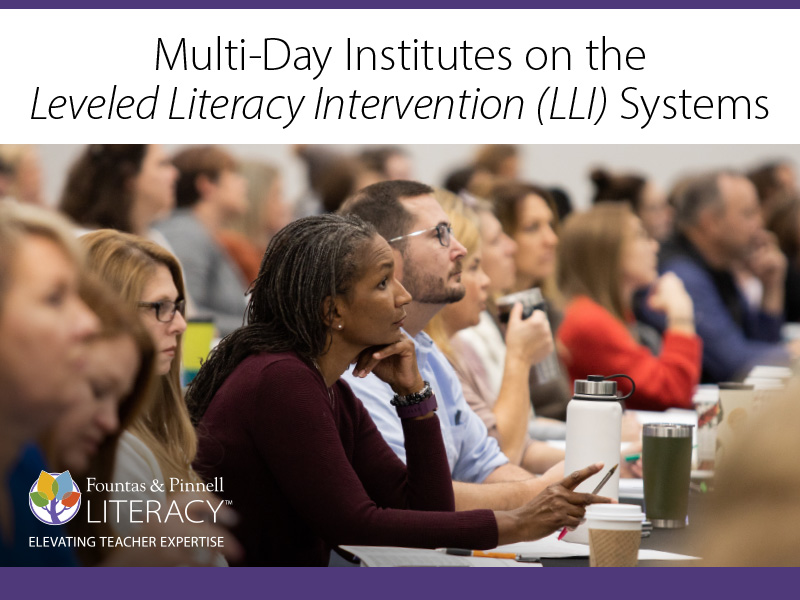 "Powerful early intervention can change the path of a child's journey to literacy."

-Irene Fountas and Gay Su Pinnell
Our Leveled Literacy Intervention (LLI) multi-day institute schedule for 2020 is here!
These institutes, being held across the country in 2020, are designed to help educators learn how LLI can best be implemented with students who struggle with literacy learning in the classroom and how to provide effective teaching within the LLI lessons.
Attend one or both of the grade-ranged two-day institutes developed by Irene C. Fountas and Gay Su Pinnell (presented by Fountas and Pinnell-endorsed consultants).
Teaching Readers Who Struggle and Teaching Within LLI Lessons in the Primary (Grades, K, 1, and 2)

Intervening for Literacy Success with Intermediate, Middle, and Secondary Students (Grades 3–12)
Seattle, WA: Download the brochure
Grades, K, 1, and 2 (Levels A-N / Orange, Green, and Blue): April 20-21, 2020
Grades 3-12 (Levels L-Z /Red, Gold, Purple, and Teal): April 22-23, 2020
Indianapolis, IN: Download the brochure
Grades, K, 1, and 2 (Levels A-N / Orange, Green, and Blue): June 15-16, 2020
Grades 3-12 (Levels L-Z /Red, Gold, Purple, and Teal): June 17-18, 2020
Burlingame, CA: Download the brochure
Grades, K, 1, and 2 (Levels A-N / Orange, Green, and Blue): October 5-6, 2020
Grades 3-12 (Levels L-Z /Red, Gold, Purple, and Teal): October 7-8, 2020
Iselin, NJ: Download the brochure
Grades, K, 1, and 2 (Levels A-N / Orange, Green, and Blue): November 9-10, 2020
Grades 3-12 (Levels L-Z /Red, Gold, Purple, and Teal): November 11-12, 2020