This is the second in a series of blogs about The Fountas & Pinnell Literacy Continuum. The Literacy Continuum is a tool for assessment, planning, and teaching across all areas of literacy. This blog focuses specifically on how The Literacy Continuum supports the teaching of reading. Read on to learn more.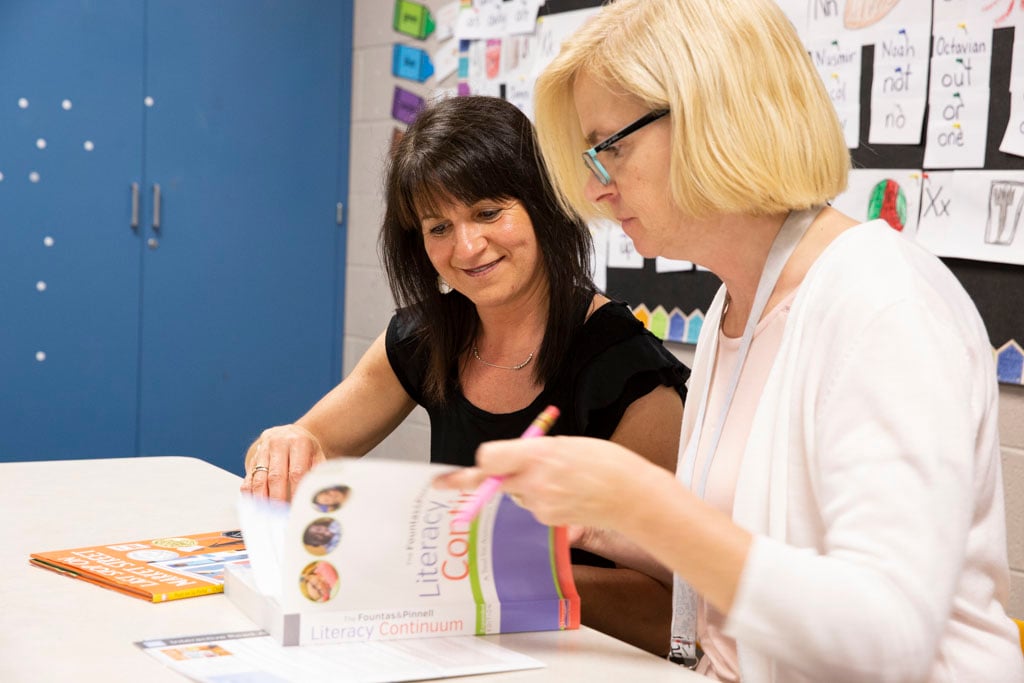 All readers, whether they are 5 years old or 55 years old, utilize the Systems of Strategic Actions described in the SOSA wheel graphic below simultaneously, every time they read. (Read more about the Systems of Strategic Actions here!)
As readers develop, many factors allow their in-the-head processing systems to become increasingly effective. They become more flexible and more efficient. When teachers provide appropriate text opportunities and intentional teaching, students improve their ability to:
look at and process print
use oral language and "book language" to consider syntax
use what they know about genres and text types
use their personal experience with language, books, and the world to understand more.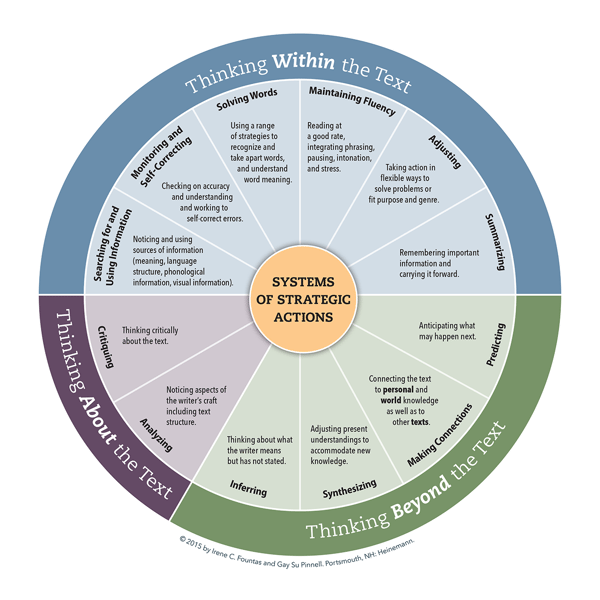 But how do teachers know if the text opportunities they are providing are appropriate? How do they become intentional about their teaching in order to respond to the readers in their classroom? And how do they notice the impact of their teaching on student learning?
What is The Literacy Continuum and How Do You Use it Effectively?
The Literacy Continuum is THE ESSENTIAL tool for selecting texts and for understanding the reading behaviors to notice, teach for, and support. Within its hundreds of pages of fine print and bulleted lists lies all of the information that teachers need for high-impact literacy instruction.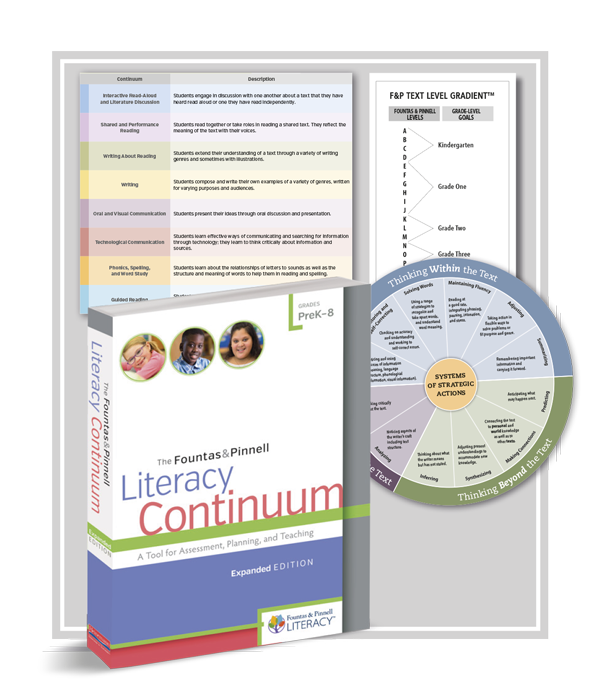 Your Guide to Readers and Literacy Development
The Literacy Continuum describes text characteristics and behavioral goals for readers in prekindergarten through eighth grade. It is broken down into eight smaller continua, which are organized by instructional contexts. Of the eight continua, four address reading behaviors. These include interactive read-aloud and literature discussion, shared and performance reading, writing about reading, and guided reading. The other four continua include writing, oral and visual communication, technological communication, and phonics, spelling, and word study. The Literacy Continuum is designed to support teachers in considering key factors for making powerful instructional decisions.
Selecting Appropriate Texts
Each continuum provides a description of appropriate text characteristics across genres for the instructional context. The "Selecting Texts" section provides teachers with the guidance they need to choose texts that will provide the appropriate amount of support and challenge for their students at a point in time. With the exception of guided reading, which is organized by text level, the continua for each instructional context is organized by grade level.
Understanding Reading Behaviors
A comprehensive bulleted list of behaviors that demonstrate evidence of thinking within, about, and beyond the text are included for both fiction and nonfiction texts for each instructional context. The bulleted lists of reading behaviors listed in the "Selecting Goals" section are observable through oral reading, talk and writing. The lists of behavioral goals shape observation and assessment by bringing teachers attention to what proficiency looks like and sounds like for their students as they climb a ladder of text complexity. The lists of behavioral goals guide responsive teaching by helping teachers consider what readers can do independently and what they can do with support across instructional contexts.
A Reading Roadmap
Think about The Literacy Continuum as a roadmap. It helps teachers approach each lesson with a clear understanding of the text they have selected, the readers sitting in front of them, and how children build reading processes over time, so that they are able to use each instructional context to help readers move towards proficiency with purpose and intention. When teachers within a school community work together to learn how to use this tool, they build a shared vision for where they are going and how to get there. The signs along the route become clear so that they can help each reader navigate the path to proficiency.
~The Fountas & Pinnell Literacy™ Team
Read the rest of our series on The Literacy Continuum:
What are the Systems of Strategic Actions?
Who Can Benefit from The Literacy Continuum?
6 Suggestions for Getting Started with The Literacy Continuum