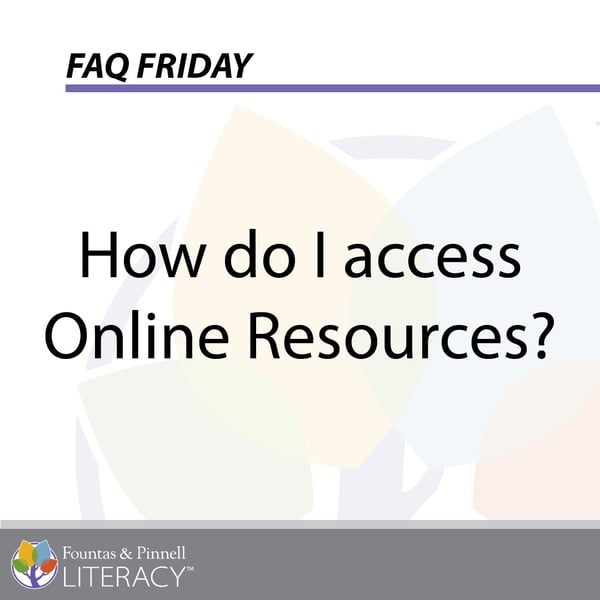 Q: How do I access Online Resources?
A: The Fountas & Pinnell Online Resources is a repository of printable resources, record keeping forms, videos, and more that accompany various Fountas & Pinnell Literacy™ products.

If you are a first-time user, you will need to register to access the site using the product code that came with your Fountas & Pinnell resource.

You can find product codes on the inside front cover of the guide for each resource, including:
Leveled Literacy Intervention (LLI) System Guide
Benchmark Assessment System (BAS) Assessment Guide
Sistema de evaluacion de la lectura (SEL) Guia para maestros (Assessment Guide)
Fountas & Pinnell Classroom™ Collection Guide for each instructional context

The professional books Guided Reading and Genre Study also have accompanying online resources. The codes for these books can be found on the last page of the Introduction of Guided Reading, Second Edition and at the end of the Table of Contents of Genre Study.

If you have an older edition of a product that did not come with a product code, click on the '?' next to product code for further directions and a form to complete.

If you need help, contact Heinemann Tech Support at 877-331-7290 or click the blue "Technical Support Online" box in the bottom left corner of the Online Resources login page to conduct a live chat for further assistance.

To see more FAQs or get answers to other questions from a trained consultant, please visit the Discussion Board!