Since Fountas & Pinnell wrote the first edition of Guided Reading in 1996, a journey of over two decades evolved leading up to the publishing of Guided Reading, Second Edition. Guided Reading, Second Edition, was developed after two decades of spending time in the classroom, observing teachers, practicing techniques, speaking with a variety of educators (including administrators, teachers of English language learners, policy makers, and literacy coaches), reading extensive research, speaking with scholars, all the while writing many other books on related topics of classroom life and literacy, each time learning more and immersing themselves even more deeply in some aspect of teaching.
Guided Reading, Second Edition, is the result of all of those years, research, authored books, and uncountable days spent in the classroom, all wrapped into one Professional Book.
What is Guided Reading, Second Edition?
This book is support for your teaching, and it is expanding upon your already crafted expertise. It is both a starting place and a place to further learning. The book Guided Reading, Second Edition, details —>
The concept and structure of guided reading
Getting started with and implementing guided reading, step-by-step
Specific ways to teach English language learners, and how this teaching must differ in order to meet unique needs
Observing and assessing readers
The connections between assessment and instruction, using The Fountas & Pinnell Literacy Continuum as a tool
Using high-quality texts to support responsive teaching
The Fountas & Pinnell Text Level Gradient™, and how you can use it as a teaching tool
Selecting and introducing texts in guided reading lessons
The systems of strategic actions and teaching specifically for them
Teaching for comprehension to assure deep understanding of texts
Fostering a sense of community within the classroom
Classroom management
Developing a cohesive learning community.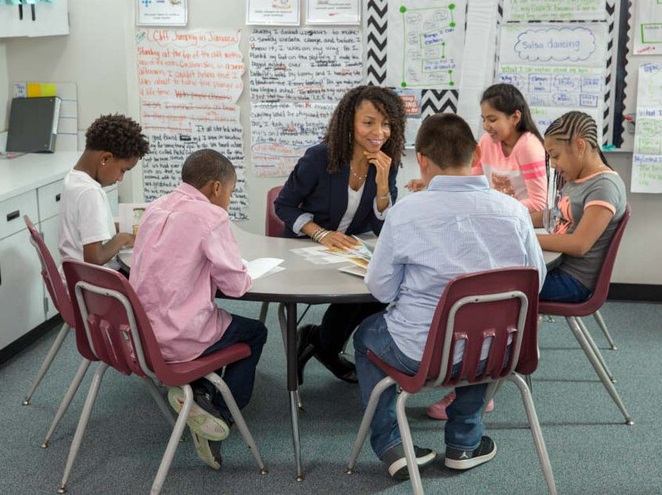 What will I learn from this book?
What guided reading is, how it works, and what it looks like within a comprehensive literacy system
How to both prepare for and teach a guided reading lesson
How to select appropriate guided reading groups
How to select meaningful, rich texts
How to utilize responsive teaching during guided reading lessons
The role of facilitative language
How to extend upon a lesson by involving different types of writing and word work
How to asses your students
How to use guided reading for effective teaching of English language learners
How to organize your classroom and build your daily schedule in order to implement a comprehensive literacy system
And so much more!
Who is this book for? Both NEW and EXPERIENCED:
Teachers
Educators
Administrators
Literacy Coaches
Education Undergrad and Graduate students.
For more information, and for a full list of Fountas & Pinnell Professional Books, check out this blog post.
For purchasing information, head over to Heinemann's website here.

The secret to having a rewarding and engaging career in education is to
keep learning.
~The Fountas & Pinnell Literacy™ Team
---
Join the fastest growing community in the field of literacy education. Get your free membership and stay up to date on the latest news and resources from Fountas and Pinnell.
Join the Fountas & Pinnell Literacy™ Community

For a well-organized, searchable archive of FAQs and discussions that are monitored by Fountas and Pinnell-trained consultants, go to our Discussion Board.
For more collaborative conversation, join the Fountas & Pinnell Literacy™ Facebook Learning Group.
Join the Fountas & Pinnell Literacy™ Facebook Group