Fountas and Pinnell believe that teacher expertise is at the heart of student achievement. Fountas & Pinnell Classroom™ is deeply rooted in continuous professional learning, which is why FPC includes free professional development, lesson videos, and tools to orient you to the system and further develop the teaching craft. Read on to find out about the complementary PD available to you!
If you have not yet registered for Online Resources, see the inside front cover of your FPC context Collection Guide.
Once registered, navigate to the FPC homepage to access its Online Resources.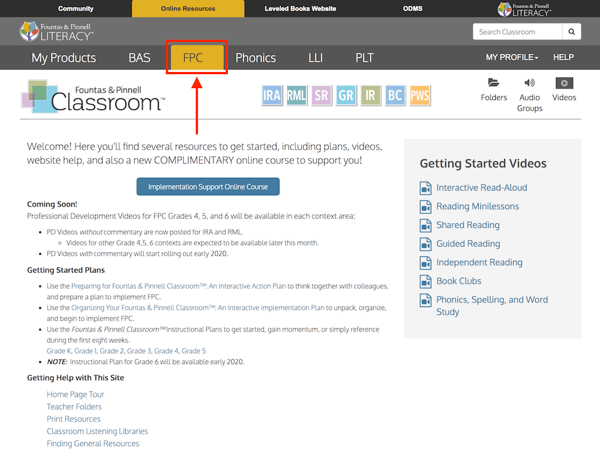 Getting Started Videos
These short, informative videos provide an overview to the components in your collection(s) to help you begin organizing your materials. There is a video for each instructional context: Interactive Read-Aloud, Reading Minilessons, Shared Reading, Guided Reading, Independent Reading, Book Clubs, and Phonics, Spelling, and Word Study.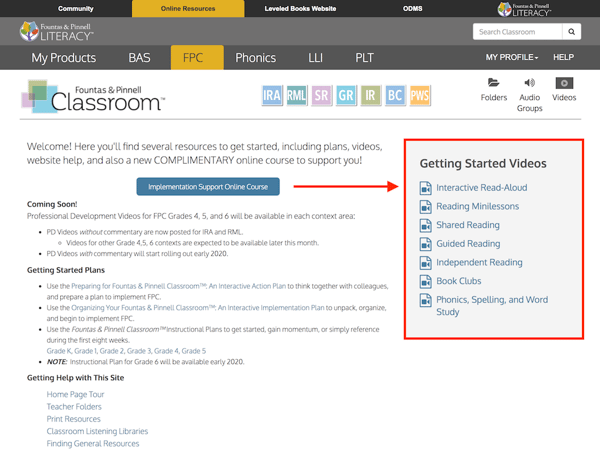 Implementation Support Course
This complementary implementation support course delivers video and interactive sessions that focus on the seven instructional contexts of the FPC System: Interactive Read-Aloud, Reading Minilessons, Shared Reading, Phonics, Spelling, and Word Study System, Guided Reading, Book Clubs, and Independent Reading.
In this implementation support course, you will be guided in:
Building familiarity with the professional resources that support the implementation of

FPC

Getting started with each instructional context

Fitting it all together - connecting contexts across the day, week and year.

Instructional Plan
The 8 Week Instructional Plan provides one example of the first eight weeks of instruction with FPC. Use it to get started, gain momentum, or simply as a reference during the first eight weeks. Remember, FPC is based on responsive teaching—this Instructional Plan is just one example of how you might begin instruction in your own classroom.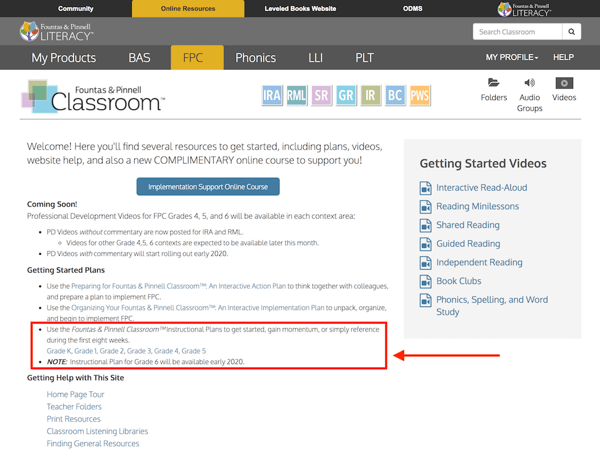 Professional Development Videos
Included with the FPC Online Resources are professional development videos with example lessons of each grade and each instructional context. These videos are available with or without commentary and walk you through the lesson.
Only some lessons have an accompanying video, which is indicated by a video thumbnail in the "Resources" column.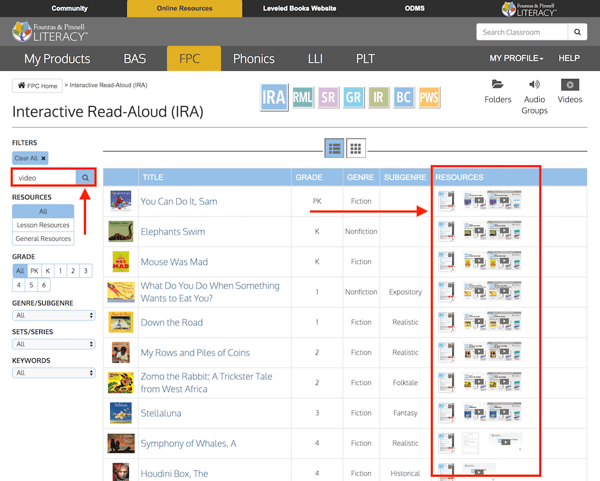 All videos are currently available for grades PreK-3.
Professional Development Videos for grades 4, 5, and 6 will be available in each context area:
PD Videos without commentary are now posted for IRA and RML. Videos for other Grade 4,5, 6 contexts are expected to be available later this month.
PD Videos with commentary will start rolling out in 2020.
~ The Fountas & Pinnell Literacy™ Team