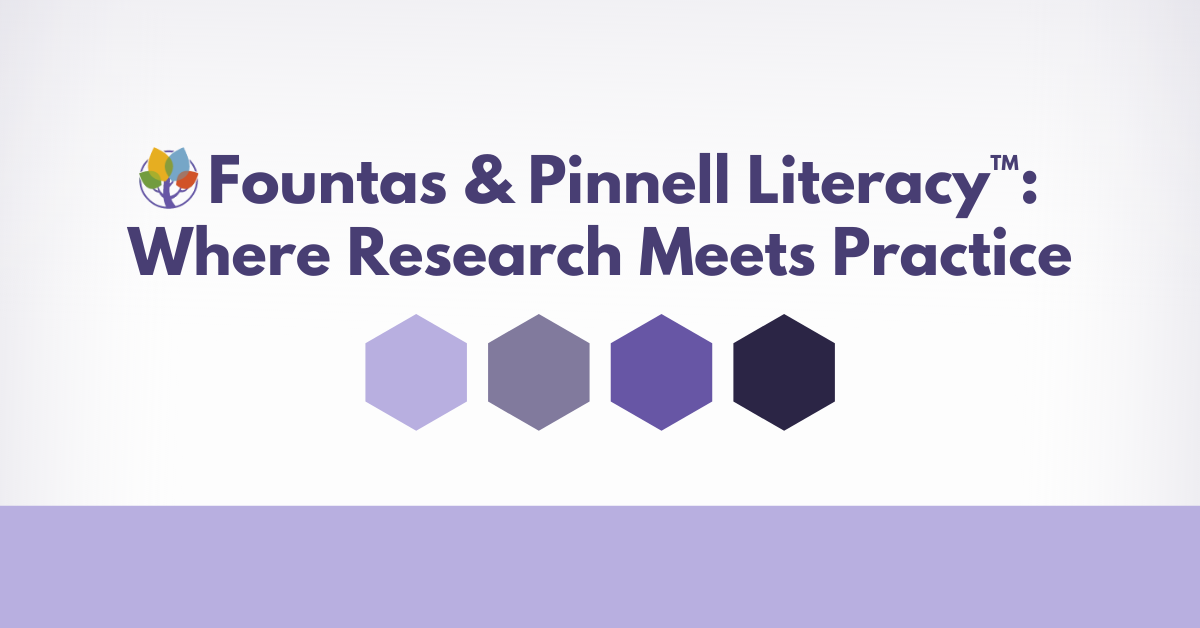 We are sometimes asked about the science behind our materials and the research that influenced our design for literacy instruction. Educators often want to be able to point to the ways in which our resources are explicit and systematic, and to see specific evidence to show they lead to literacy success for students across the country. Today we are launching the first of a 4-post blog series to do just that. Please join us over the next several weeks as we unpack the pedagogy, research base, and evidence of efficacy that sit behind the Fountas & Pinnell Literacy™ brand.
Blog 1: Fountas & Pinnell Literacy™: Where Research Meets Practice
Blog 2: Elevating Expertise: Why Teachers Are the Single Most Important Classroom Factor In a Child's Learning Achievement
Blog 3: Fountas & Pinnell Literacy™: Systematic, Explicit, and Sequential
Blog 4: Responsive Teaching: Meeting Our Students' Needs Through Comprehensive, Differentiated Instruction
---
Blog 1: Fountas & Pinnell Literacy™: Where Research Meets Practice

Each of the systems that make up the Fountas & Pinnell Literacy™ brand have been developed over many years, incorporating a wide body of research about how literacy develops in children over time. This rich scientific base has provided the foundation for each of our products as we've carefully crafted a design for literacy instruction over our decades-long career. But we've also spent countless hours in classrooms, both as teacher and observer, seeing firsthand how children develop internal processing systems and move from beginning to skilled readers. The intersection of research and practice has enabled us to create resources that are truly effective, and we are delighted to consistently see evidence of advancing student achievement and engagement as well as significant growth in teacher expertise.

We'd love to invite you to dive deeper into the research that led to the development of the Benchmark Assessment Systems, Sistema de Evaluación de la Lectura, Leveled Literacy Intervention, Fountas & Pinnell Classroom™, and our Phonics, Spelling, and Word Study System.

We have also engaged in numerous efficacy studies over the years to ensure that our materials help teachers and students the way they were designed to help. If you'd like to see our products in action in real classrooms, please feel free to peruse our formal efficacy studies and read first-person accounts from spotlight districts.

- Irene C. Fountas and Gay Su Pinnell


---
Join the fastest growing community in the field of literacy education.
Get your free membership and stay up to date on the latest news and resources from Fountas and Pinnell.
For a well-organized, searchable archive of FAQs and discussions that are monitored by
Fountas and Pinnell-trained consultants, go to our Discussion Board.
For more collaborative conversation, join the Fountas & Pinnell Literacy™ Facebook Learning Group.