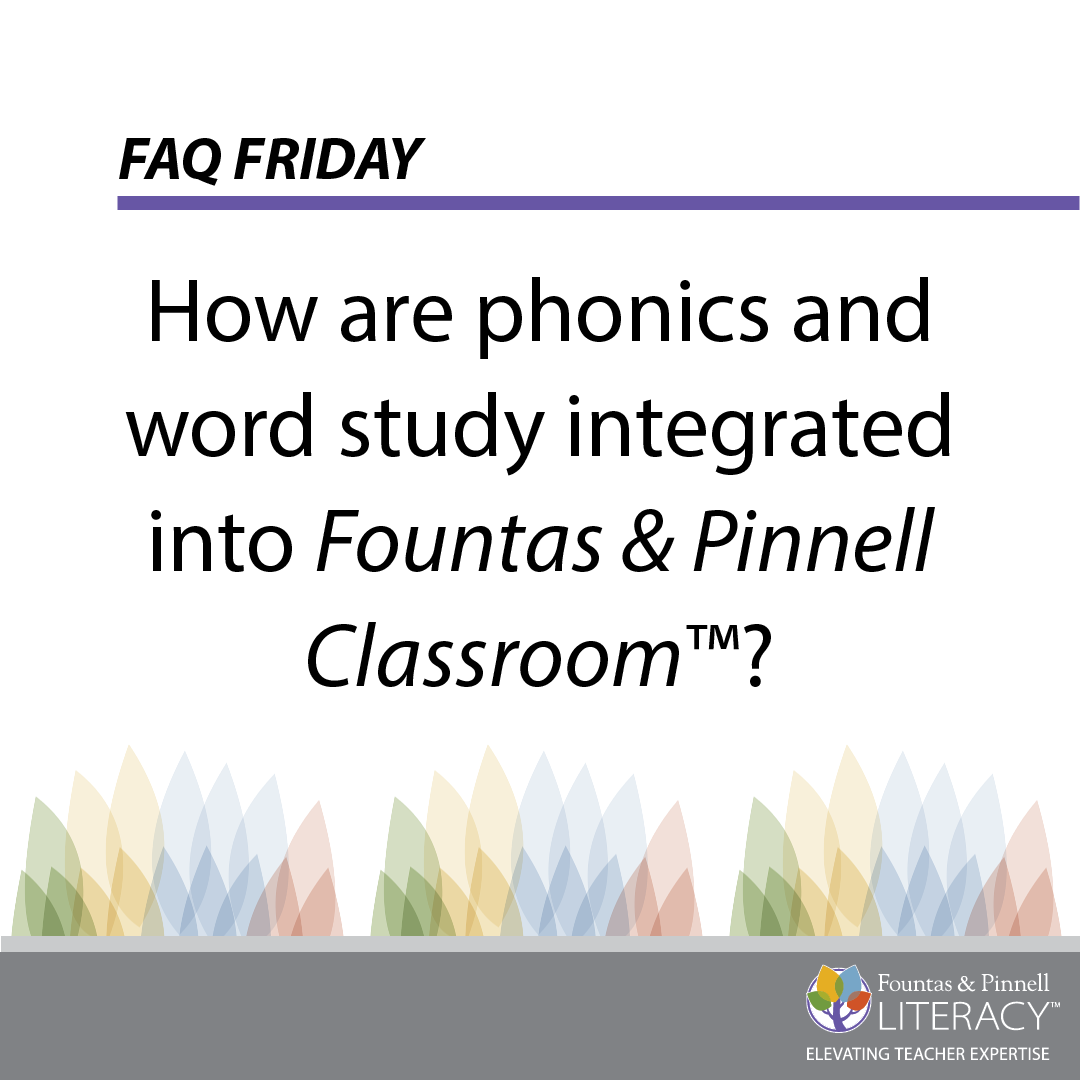 Q: How are phonics and word study integrated into Fountas & Pinnell Classroom™?
A: Phonics, spelling, and word study are woven into the various instructional contexts within Fountas & Pinnell Classroom™ (FPC) including:
The lessons in this system are systematic, and sequenced with built-in flexibility for teachers to choose which minilessons to use and when, according to the needs of the students. Each "Teach" activity within the minilessons is designed for use with the whole class, and the "Apply" activity could be used with a small group, pair, or an individual student. All of the revised lessons are derived and connected to principles from The Fountas & Pinnell Comprehensive Phonics, Spelling, and Word Study Guide, which reflects the specific behaviors related to the nine areas of learning for letters, sounds, and words that children develop over time:
Early Literacy Concepts
Phonological Awareness
Letter Knowledge
Letter-Sound Relationships
Spelling Patterns
High-Frequency Words
Word Meaning/Vocabulary
Word Structure
Word-Solving Actions
FPC Shared Reading Collection:
The lessons in the FPC Shared Reading Collection include suggested Phonological Awareness/Phonics/Word Study goals taken from The Literacy Continuum that the text used in the lesson will support the teacher in helping students achieve.
FPC Guided Reading Collection:
The goals embedded within the FPC Guided Reading Collection lessons apply the principles from The Comprehensive Phonics, Spelling, and Word Study Guide. In addition, an important component of each FPC Guided Reading Collection lesson are brief, but focused attention to words and how they work in the form of an embedded phonics activity that is based on the "Planning for Letter and Word Work After Guided Reading" feature from the Guided Reading continuum in The Literacy Continuum.
To see more FAQs or get answers to other questions from a trained consultant, please visit the Discussion Board!