Leading for Literacy: What Every School Leader Needs to Know is an inspiring and practical resource for all school leaders—teacher leaders, literacy coaches, school administrators, and district-level leaders. Filled with useful "look-for" tools for observing literacy teaching and reflecting upon the culture and systems of your school, Leading for Literacy helps school leaders understand key principles of effective literacy teaching and create equitable communities of learning for all students.
With Leading for Literacy, you will uncover the foundations for effective literacy learning and DISCOVER how to…
Develop shared leadership that will sustain systemic improvement
Define your core values and vision to create a healthy, collaborative school culture
Lead and learn together to build collective efficacy
Implement a coherent design for evidence-based literacy teaching
Observe, assess, and use data to re-envision literacy teaching in your school or district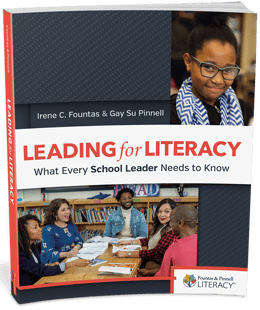 OVER 30 TOOLS AND PROTOCOLS for observation to help you reflect upon the strengths and needs of your school community –
Developing Your Core Values and Vision with Your Team (Protocol Tool

)

Evaluating Text Collections (Observation Tool)

Lesson Observation Tools by Context (Observation Tool)
Developing an Effective Design for Literacy Assessment (Protocol Tool)
Reviewing and Analyzing Student Work (Protocol Tool)
…and more!