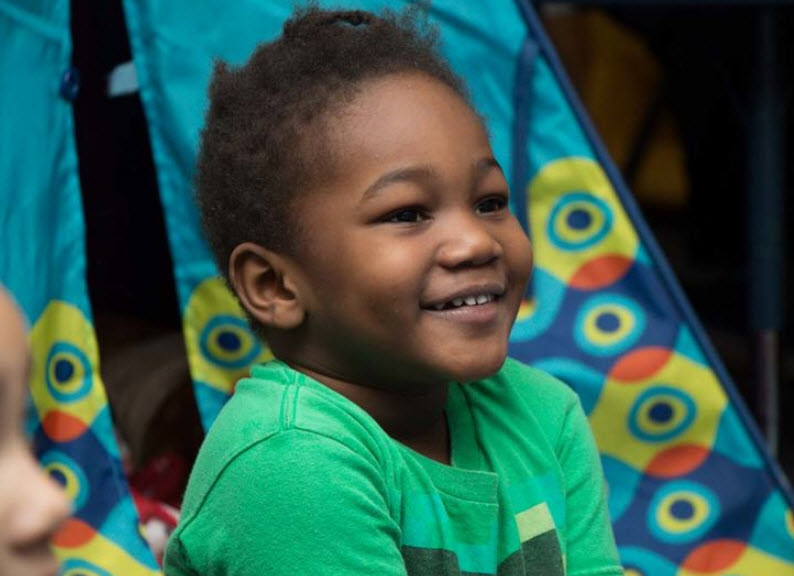 Prekindergarten teachers are faced with the challenge of creating classrooms that are play-based, but also prepare children for a literacy-rich world. While most children will not leave PreK able to read conventionally, their development as emergent readers can be supported in many ways.
Fountas and Pinnell believe that it's important to help children see themselves as readers whether they are reading conventionally or not. Through the following three critical areas of learning, teachers can learn how to use teaching interactions during interactive read-aloud, shared reading, and independent reading to help children develop early reading behaviors.
Story Awareness
Even at one, two, or three years old, children can "respond" to stories that are read to them. They imitate parent's noises they make while reading; they assist in turning pages; they make hand movements and noises that fit the text and anticipate what happens next. Responses like these do not involve attention to print, but they are internalizing some important early reading behaviors.
You can quickly establish a love of reading stories by carefully selecting books and making them accessible to everyone by reading them aloud. As children have more experience with extended texts like stories and very simple informational books, they acquire the most important foundation for reading—language.
Language Awareness
The language of stories fascinates children; there is an inherent pleasure in language play. It is amazing how children start to repeat the language they hear in the stories they are exposed to, making it their own after a reading or two.
Using interactive read-aloud daily will provide ample opportunity to expand children's knowledge of the structure (syntax) of language. As you are choosing your books for your read-aloud, above all, be sure that the story, language, and illustrations are highly engaging.
Print Awareness
As children notice more about written language, they begin to find signposts—letters or collections of letters they recognize; they may even learn to read some words. As you work with prekindergarteners, you will observe evidence of new literacy learning every day. The key is to make their experiences meaningful and memorable.
We cannot assume that children will take on literacy behaviors simply because print is all around them, nor will they learn how stories work by hearing just a few. Our intentional act of teaching through interactive read-aloud, shared reading, interactive writing, and independent writing will lead them to new understandings.
Pick up a copy of Fountas and Pinnell's Literacy Beginnings: A Prekindergarten Handbook to learn rich, comprehensive, and practical insights to the frontier of early literacy. And don't forget to take a look at the Fountas & Pinnell Classroom™ Interactive Read-Aloud and Shared Reading Collections to expand your libraries and put these new insights into action in your PreK classroom.
~The Fountas & Pinnell Literacy™ Team