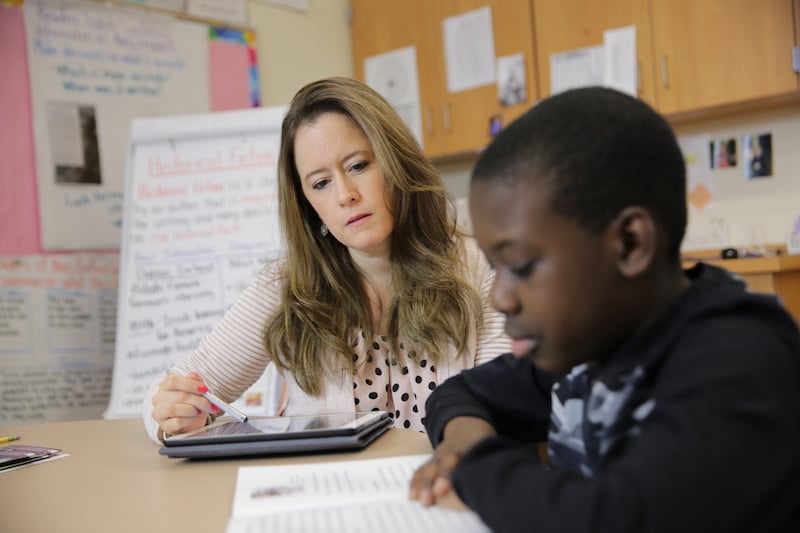 This is the time of year for getting to know each of your new students as unique individuals in your classroom community. Your BAS conference is a wonderful opportunity to spend a short time with each child to get a big payoff.
Think about the following tips as they may help you establish more efficient and informative BAS conferences with your students.
Making a Schedule
It's a good idea to make a schedule for conducting your assessments. Be proactive. For example, plan to have two or three assessment conferences a day and complete all the assessments within two to three weeks. Don't let the assessments drag out for weeks.
Finding Time
Consider partnering up with a grade-level colleague so you can release each other to administer an assessment or two. For example, take turns reading aloud to both classes or taking both groups out for recess time. Think together about other opportunities that could enable both groups of students to engage in meaningful work together while you gain time for assessment conferences.
Conducting the Assessment Conference Efficiently
A key to an efficient conference is being organized, knowing where to begin the assessment and moving the assessment along at a good pace. When you start with a text that is easy, but not too easy for the student to read, the next book will likely be an instructional level. The third book read will likely be hard. As soon as the data shows the text is hard, you stop the assessment.
Think about how to organize yourself for an efficient administration. Organize the books by level in a pile. If you are using the iPad application, you will be paperless. If you are using paper, make several copies of each Recording Form, so you can quickly pull the form you need. Have your F&P Calculator/Stopwatch ready.
Use last year's reading information to know where to start. Make a list of start levels for each student. You might also talk a minute with the student about what books he read over the summer to get a level indicator. In any case, you can talk to last year's teacher.
Move the conference along at a good pace. Be sure to read all the books before you begin. Collect one book while handing over the next. The more assessments you give, the more familiar you will be with the prompts and you can move along at a good pace.
Learning More
The more you administer the BAS, the more efficient you will become. If the students read fluently, the assessment will be shorter. The goal is for the student to read one easy book with fluency, one instructional level book with fluency, and only part of one book that is hard.
Plan ahead for an efficient administration. And share tips for efficiency with your colleagues.
Our best to you as you start a new year.
-Irene Fountas and Gay Su Pinnell.