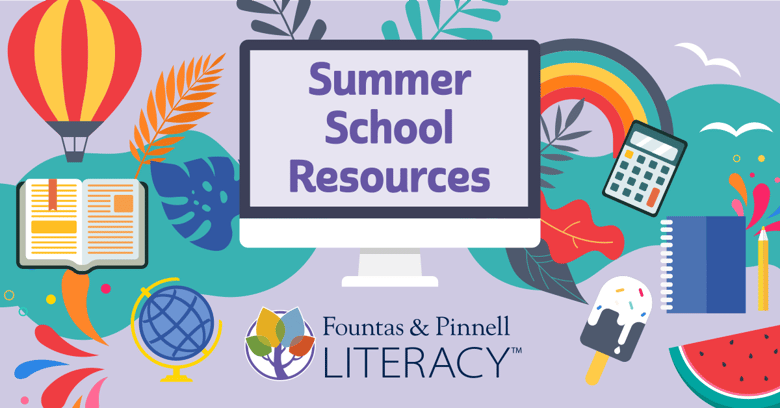 Summer school is an opportunity to meet kids where they are and help move them forward. Fountas & Pinnell Literacy™ offers districts, schools, and teachers flexible and easy-to-implement resources to meet students' unique needs, including responsive teaching, small group accelerated intervention, and interpersonal connection.

➡️ JUMP TO SUMMER SCHOOL VIDEOS ⬅️
Browse our suggested 4-6 Week Summer School plans in Online Resources
The Fountas & Pinnell Literacy™ team has developed suggestions and guidance for educators planning to use Fountas & Pinnell Classroom™ resources for summer school learning. Choose the suggestions that work best for you, your students, your teaching environment, and your school/district plan, to build coherence and help children make deeper connections across and within books.
Click below to Jump to Grade Level Resources:
Kindergarten | Grade 1 | Grade 2 | Grade 3 | Grade 4 | Grade 5 | Grade 6


Fountas & Pinnell Literacy™
Summer School Resources
Kindergarten
Grade 1



Grade 2
Grade 3
Grade 4
Grade 5
Grade 6
Complimentary March 2021 Webinar for Fountas & Pinnell Literacy™ Community Members with resources for Summer Learning.

Irene Fountas, Gay Su Pinnell and the FPL team hosted an exclusive webinar focused on resources for summer learning. Whether a current user or future user, together we examine how to utilize the below FPL resources to focus on accelerated literacy learning through responsive teaching with an emphasis on social emotional learning:

Leveled Literacy Intervention
Fountas & Pinnell Classroom™ Interactive Read-Aloud Collections
Fountas & Pinnell Classroom™ Book Club Collections
The Reading Minilessons Books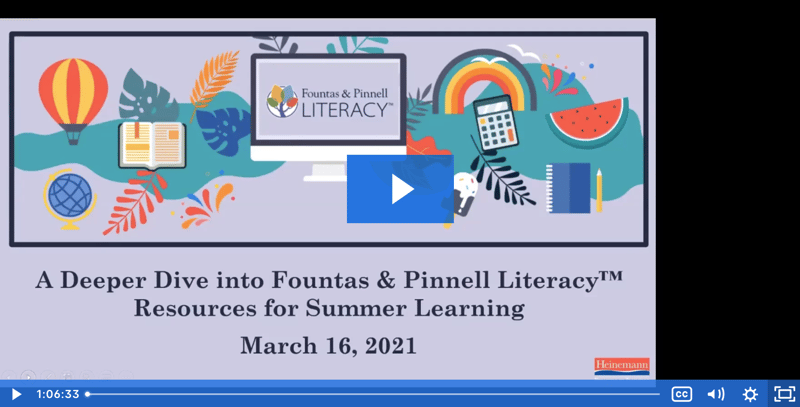 Summer School Awareness Sessions
Watch 30-minute Awareness Session videos to learn tips for using Leveled Literacy Intervention and Fountas & Pinnell Classroom™ Interactive Read-Aloud and Book Club Collections for 4 to 6 week Summer School cycles.

Watch Summer School Tips: Fountas & Pinnell Classroom™


Watch Summer School Tips: Leveled Literacy Intervention