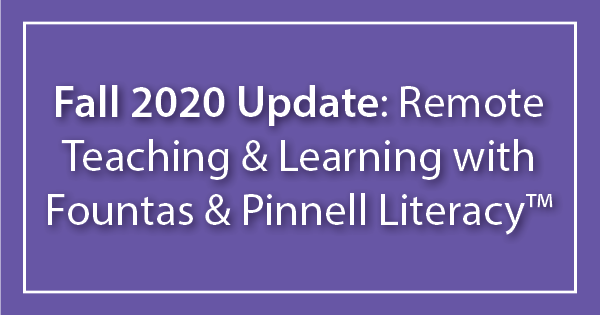 The sudden shift to remote learning in Spring 2020 prompted us to respond rapidly to the needs of educators and students. At that time, we digitized as many resources as were possible and made those available for teacher access. As COVID-19 continues to impact what teaching and learning will look like for the 2020-21 school year, we rounded up a list of the Fountas & Pinnell Literacy™ resources that are/will be available for remote learning into one location for easy reference.
Heinemann is working diligently to develop a secure delivery platform for student access to our collections of original student books in ways that maintain the integrity of the original print resource. Our long-term goal is to focus on constructing a more thorough, robust, fee-based subscription model that will meet present needs and lead instruction into the future. All information about the development of this model will be available on the Fountas & Pinnell Literacy™ Blog well before it impacts any part of your experience, such as purchasing or teaching.
The creation of secure, pedagogically sound tools takes time. While this development will be an ongoing process that will extend beyond the start of and into the 2020 school year, we are committed to providing the best support for teachers and students no matter where they will be required to teach and learn.
AVAILABILITY OF RESOURCES FOR LLI and FPC USERS:
Currently, verified product owners have complimentary, temporary teacher access to the below resources through December 31, 2020 (Please note, this date has now been extended to June 30, 2021):
Leveled Literacy Intervention books, K-5 (teacher access)
Fountas & Pinnell Classroom™ Shared Reading books, PreK-3 (teacher access)
Fountas & Pinnell Classroom™ Guided Reading books, K-6 (teacher access)
Fountas & Pinnell Classroom™ Collection Guides, per grade level, per instructional context
Phonics, Spelling, and Word Study Lessons, K-4 (teacher access)
Suggestions to Support Literacy Learning (documents located in Online Resources)
Video Overviews with a guided tour of how to access your Online Resources
EXCITING NEWS for FALL 2020:
This fall, we will launch:
complimentary, digital Remote Teaching and Learning Guidelines for verified product owners for:

Benchmark Assessment System **now available**
Fountas & Pinnell Classroom™ (one per instructional context)
Leveled Literacy Intervention

The Reading Minilessons eBooks (detailed information and pricing forthcoming)
Heinemann is in the process of developing a secure student-facing platform and intends to provide student access via a subscription model (pricing TBD) for:
Fountas & Pinnell Classroom™ Guided Reading books
Fountas & Pinnell Classroom™ Shared Reading books
Leveled Literacy Intervention books
Bookmark the Fountas & Pinnell Literacy™ Remote Learning page and the Fountas & Pinnell Literacy™ Blog for updates including availability dates and details for forthcoming resources.
We hope these resources will help you maintain instructional continuity for your students during this time of uncertainty. We wish you and your extended family continued health and safety and are grateful for your ongoing partnership.
…
---
Join the fastest growing community in the field of literacy education.
Get your free membership and stay up to date on the latest news and resources from Fountas and Pinnell.
For a well-organized, searchable archive of FAQs and discussions that are monitored by
Fountas and Pinnell-trained consultants, go to our Discussion Board.
For more collaborative conversation, join the Fountas & Pinnell Literacy™ Facebook Learning Group.