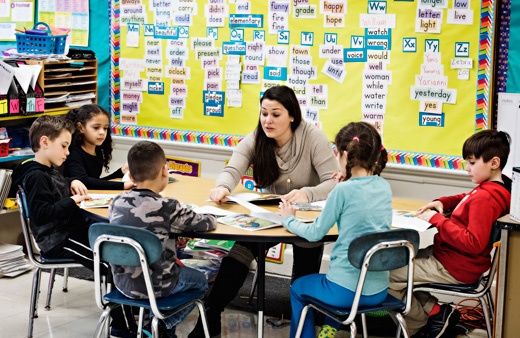 Guided reading is not a static concept; the materials, teacher decisions, and interactive framework change over time as students grow in knowledge, skill, and independence, and teachers become more experienced. Fountas and Pinnell believe that teacher expertise and the professional development that supports it is the only way to raise student achievement. High-quality, highly effective implementation of guided reading involves a process of self-reflection.
Each time you work with a small group of students, you can learn a little more and hone your teaching skills. For example, in guided reading lessons, the goal is to teach the reader, not the text.
Self-reflect: Think about how your language interactions with readers support the ability of each student to initiate problem-solving actions. Ask yourself: How does my language support pass control to the reader? What have I taught the readers how to do today that they will be able to do with other texts? Remember, reflective teaching is rewarding because you are learning from teaching.
To read more about guided reading, and to ponder the challenges and opportunities that come from its implementation, pick up a copy of the NEW Guided Reading, Second Edition.
You can also sign up for a FREE LIVE Webinar with Fountas and Pinnell on January 11 at 4:00 p.m. where the focus will be on teaching for comprehension across guided reading lessons. And don't forget to join us the next night on January 12 at 8:00 p.m. for a LIVE Twitter Chat with Fountas and Pinnell using #FPLiteracy to discuss more on Guided Reading!
Excerpted and adapted from "Guided Reading: The Romance and the Reality published in Reading Teacher," (Dec/Jan 2012)