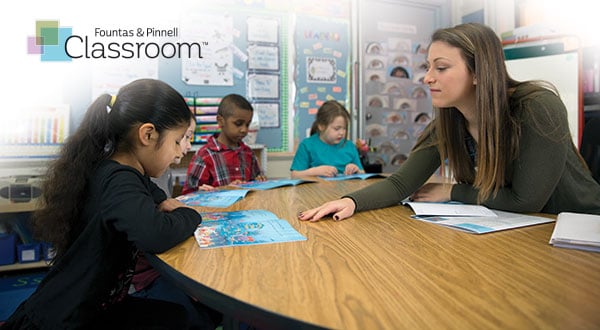 It all began with high-quality books. Before a lesson was conceptualized, or one word of instruction written, Fountas & Pinnell Classroom™ (FPC) was already years into development. Irene Fountas and Gay Su Pinnell, along with their talented team of writers and editors, were pouring their energy into the creation of the MOST powerful, authentic, engaging, diverse, original books, as well as choosing the most captivating trade books on the market to be the heart of this transformative literacy system. After all, how can we ignite children's love of reading if we don't give them rich, powerful, engaging books?
"Classrooms ALIVE with rich, authentic, high-quality books can transform literacy education."

—Irene C. Fountas and Gay Su Pinnell
A rich and authentic text base is the foundation for FPC. Books are at the heart of literacy learning: exciting books to stir children's imagination, beautifully-crafted books to enhance children's language and knowledge of story, challenging books to lift every reader, and diverse books to expand readers' life experiences and knowledge of the world and its people. Different texts serve different purposes, both in context and content, sometimes intensifying understandings and beliefs that students already hold, and sometimes extending or reframing students' perspectives about the world.
Guided Reading Books
If you love the wonderful books in the Fountas & Pinnell Leveled Literacy Intervention Systems (LLI), then you will love the books in The Fountas & Pinnell Classroom™ Guided Reading Collection. These authentic leveled texts for small group instruction were created with the same attention and care that went into the LLI books. Each guided reading book was developed under the direction of Fountas and Pinnell. This 1300 title collection (50 titles per level from A to Z on the F&P Text Level Gradient™) is the most exquisite collection on the market. During guided reading, children read a teacher-selected text in a small group; the teacher provides explicit teaching and support for reading increasingly challenging texts with fluency and comprehension. Build a rich Guided Reading collection with these powerful, engaging, original texts.
Interactive Read-Aloud Books
The Fountas & Pinnell Classroom™ Interactive Read-Aloud Collection is made up of the very best, age- and grade-appropriate trade books. 120 titles per grade were chosen with very specific criteria in mind: to promote the joy of reading, expand vocabulary, and nurture the ability to think, talk, and write about texts that will fully engage students' interests.
Shared Reading Books
Teachers need a rich variety of large-print books to engage readers in shared reading. The books in The Fountas & Pinnell Classroom™ Shared Reading Collection are quite special. They are all original texts (enlarged and accompanying smaller versions) that are sure to capture the attention of students with vibrant illustrations and interesting plots. Some even have special features, such as flaps, cutouts, and foldouts. With 200 titles spanning grades PreK-3, these books are meant to nurture students' ability to construct meaning in a supported way, so they can enjoy reading and learn essential concepts of how texts work.
Independent Reading Books
The purpose and goal of a literacy system is to create lifelong readers who have the power of choice and enjoy the pleasure of reading. The Fountas & Pinnell Classroom™ Independent Reading Collection is made up of carefully curated books (150 titles per grade in K-2 and 200 titles per grade in 3-6) that provide students with the opportunity to develop their tastes as readers, and to read many self-selected books independently.
Books Club Books
The books in The Fountas & Pinnell Classroom™ Book Club Collection provide students an authentic opportunity to bring students together for in-depth discussion of captivating trade books they have self-selected and read. Book Clubs help students extend thinking, learn more about themselves as readers, and grow as thoughtful users of literacy. Activate student agency and connect learning with books (32 titles per grade in K-3 and 48 titles per grade in 3-6) that stir captivating discussion.
All children deserve access to an authentic, rich, and diverse text base—one that creates lifelong readers who have the power of choice, the ability to make decisions about books, the freedom to have opinions, the opportunity to think critically, and the pleasure of reading every day. Fountas & Pinnell Classroom™ is the most responsive and powerful system to help educators transform the landscape of literacy education.
~The Fountas & Pinnell Literacy™ Team
---
Join the fastest growing community in the field of literacy education. Get your free membership and stay up to date on the latest news and resources from Fountas and Pinnell at www.fountasandpinnell.com
For a well-organized, searchable archive of FAQs and discussions that are monitored by Fountas and Pinnell-trained consultants, go to our Discussion Board at www.fountasandpinnell.com/forum
For more collaborative conversation, join the Fountas & Pinnell Literacy™ Facebook Learning Group at www.facebook.com/groups/FountasPinnell/