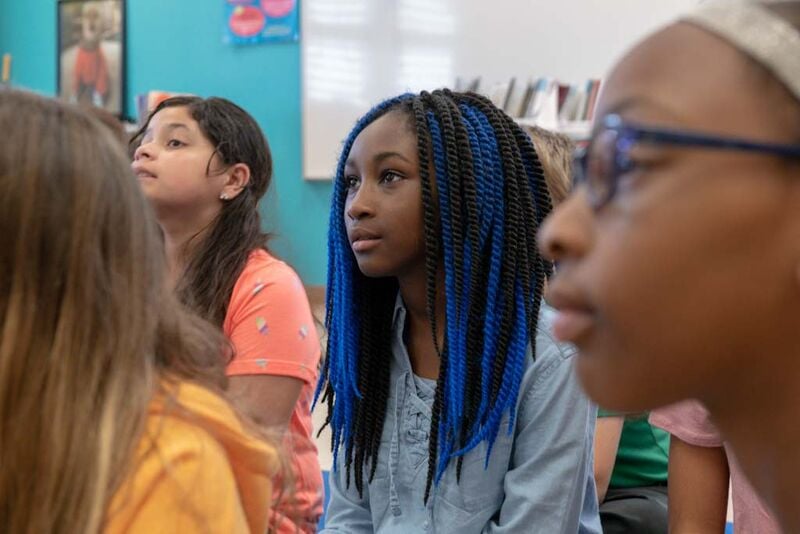 This blog was originally published on Sept. 21, 2017.
How would you describe your school's culture? Is it warm and supportive? Or perhaps run like a tight ship in an attempt to create rigorous learning? In order to build an inclusive, respectful, supportive, and collaborative community, you can't have one scenario without the other. Here are some ways you can turn your classroom of students a community of learners.
"Your classroom is a place where students learn how to read, write, and expand all of their language skills, but it is much more. It is a laboratory where they learn how to be confident, self-determined, kind, and democratic." ~ Irene C. Fountas and Gay Su Pinnell
Provide Thought-Provoking Books
The classroom is where students spend most of their time. It's important to create an environment that helps them think deeply about the world, themselves, and how they fit into the world as global citizens. A great way to open up these channels of thinking is through books. Give them high-quality books that help them think about important ideas and issues, and about developing empathy for others.
Think About Classroom Management
There are several behavioral and emotional expectations of a student from entry to middle school; traits you want to see in a successful student. These include social interaction, empathy, sense of community, emotional well-being, and self-regulation. Your classroom should be a peaceful environment and reflect a climate of acceptance in which you can communicate to your students that you are interested in what they have to say. But you should also think about the physical space, as well as predictability, empathy and kindness, inquiry, and more.
Have a Design for Literacy Education
Creating the ideal literacy classroom environment where your students are always thinking, talking, and reading about the world can be a daunting task. You want to make adequate time for designing a landscape for language and literacy learning, but how? Where do you start? There can be many constraints—both physical and financial—to creating this ideal environment, but it is possible. When students spend their time thinking, reading, writing, and talking every day, they get a message about what is valued in your classroom and they begin to develop their own values.
Building a literacy community in your classroom takes a great deal of thought and effort, but the payoff is worth it. In a sense, the classroom is a sheltered environment within a noisy world in which everything interferes with high-level intellectual discourse and time for reading and writing. But in these short years students have a chance to live a literate life that expands their empathy, curiosity, and competencies. Literacy is their job.
~The Fountas & Pinnell Literacy™ Team