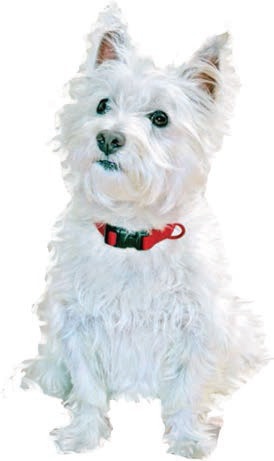 It's the end of the school year, and Meli is so proud of how far you've all come! She has loved seeing your progress throughout the year and can tell that your reading and writing is improving! Keep it up!
This month, Meli answers questions from students in New Jersey, Kentucky, Wisconsin, and Oklahoma!
Parkway School, Paramus, NJ
Hi Meli,
Do you like pizza? Do you have a boyfriend? We love your books, do you like to get shots? Do you like to brush your teeth? Are you healthy? Is your toothpaste actually chicken flavored? Do you really spill your water? Why do you spill your water? Do you like to take a bath? Do you have fun in the snow? Do you love Valentines day? When is your birthday?
– R.J, Leanna, Jet, Briana, Gabbi, Camila , Mckayla

Hello everyone! Thank you so much for your letters and drawings! They made me so happy I could bark! I have never had pizza. My favorite food is cantaloupe though, it's super yummy! I really do use chicken toothpaste! I brush my teeth every day with it! I like taking a bath, but I don't like using the hair dryer after. It makes my fur very soft though! Sometimes I spill my water––it's hard not to be messy when you drink out of a dog bowl! My birthday is October 2nd and I am 12 years old. Keep reading! Woof!
Meli
New Haven Elementary, Union, KY
Dear Meli and Ms. Fountas, we are students from New Haven Elementary in Union, Kentucky. We are big fans of the Meli books. We just finished reading "The Problem with Meli." Our favorite part was when she barked at the other dogs on TV! We would like to find out more about Meli. We have been wondering if Meli has any family? What does Meli like to eat? Does Meli like to play in the snow? When is Meli's birthday (we would like to have a party!) If your write more Meli books please make them longer and have a play at the end. Thank you for making these cute books.
– Jake, Lukas, Tristan, Katie, Bristol

Hello everyone! I loved your letter! I'm so happy you like my books! I live with Ms. Fountas in Massachusetts and am an only animal. My favorite treat is cantaloupe––it's super yummy! I also like peanut butter and baby carrots! My birthday is October 2nd, I am 12 years old! Keep reading! Woof!
Meli
Green Tree Elementary, West Bend, WI
Dear Meli, I think you are loving, cute, caring, and kind. Are you spoiled? I was scared when you have surgery. Were you scared too? Does your family go on vacation? Can I baby sit for you? I love you. Are you making more Meli books?
– Lucas

Hi Lucas! I'm so happy you like my books! Which one is your favorite? Thank you for the letter! When I had surgery I was nervous, but they took good care of me and I got to go to dog rehab after! It was so much fun. I learned how to swim! I travel with Ms. Fountas sometimes. It's fun to go new places! Keep reading! Woof!
Meli
Piedmont Elementary, Piedmont, OK
Do you like playing ball? Meli, what is your favorite toy? Do you like running? Do you like to play in the mud? Do you have friends? Do you like to sleep? Do you like to fish in the spring? Do you like to play football?
– Gabe, Asher, Aidan, Max

Hi everyone! I loved your letters, thank you! I love to chase my red ball, it's so much fun to run after it! Mud is fun to play in, but it makes me messy! I have to take a bath after. I love to take naps! Playing outside makes me tired. Keep reading! Woof!
Meli
Meli hopes you all have a great summer vacation! You can let her know your summer plans in your letter along with any other questions.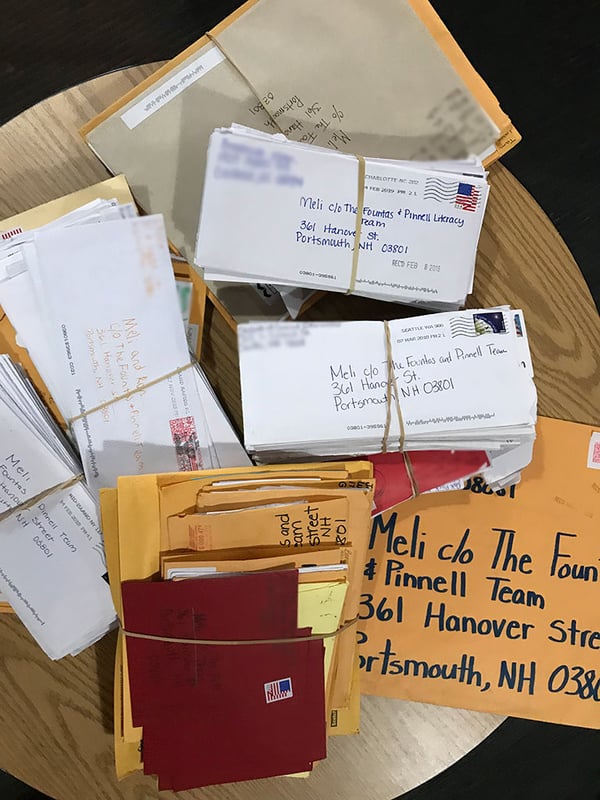 Please be sure to send your letters to Meli c/o The Fountas & Pinnell Literacy Team™, 361 Hanover St., Portsmouth, NH 03801. And don't forget to Tweet your questions to @FountasPinnell with #FPAskMeli.
See you soon!
~Meli and the Fountas & Pinnell Literacy™ Team
---
Join the fastest growing community in the field of literacy education.
Get your free membership and stay up to date on the latest news and resources from Fountas and Pinnell.
For a well-organized, searchable archive of FAQs and discussions that are monitored by
Fountas and Pinnell-trained consultants, go to our Discussion Board.
For more collaborative conversation, join the Fountas & Pinnell Literacy™ Facebook Learning Group.