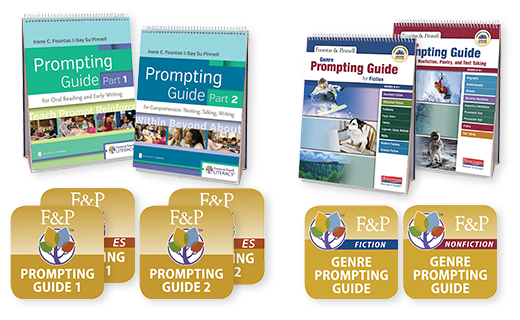 The Fountas & Pinnell Prompting Guide Apps are now available in the Google Play Store!
These apps are easy-access tools that you can use to enhance your teaching power. Use them as a ready reference while working with students in several instructional contexts including guided reading lessons; intervention lessons; shared reading; independent reading; reading and writing conferences; and dictated, independent, and interactive writing.
If you are a classroom teacher, reading specialist, literacy teacher, Reading Recovery teacher, or literacy coach, you can use the language in this guide to improve the reader's or writer's ability to solve problems and use strategic actions independently.
Features:
Quick navigation to each section
On-the-go access to

specific language that will work best for students as they build their literacy processing systems

Now available for both Android and Apple users.
Reviews:
"This app is great! Very easy to keep by my side for LLI and GR groups and refer to quickly and without distracting the group. The hard copy of the Prompting Guide was great, but this adds an element of ease…I feel that I got more than my money's worth, for sure."
"Great for teachers looking for a resource to help guide children in reading strategies during conferences or guided reading."
"I am very happy with the app. It works well and having the prompts and information so available is a big help during my guided reading groups."
Download from the Google Play Store and Apple App Store today!
(Click an image below.)
The Fountas & Pinnell Prompting Guide App, Part 1 for Oral Reading and Early Writing
The Fountas & Pinnell Prompting Guide App, Part 2 for Comprehension: Thinking, Talking, Writing
The Fountas & Pinnell Genre Prompting Guide App for Fiction
The Fountas & Pinnell Genre Prompting Guide App for Nonfiction, Poetry, and Test Taking
~The Fountas & Pinnell Literacy™ Team