You are likely to have many children in your class who not only can speak one language but are learning a second or even a third language. And that is a great thing. If English is an additional language, then it will be important that you understand
and value the child's expansion of both home and school language. You will want to adjust your teaching to make sure that English language learners (ELLs) have access to your teaching about sounds, letters, and words. Often, these adjustments are minor and easy to implement, but they are necessary to promote essential understandings on the part of these learners.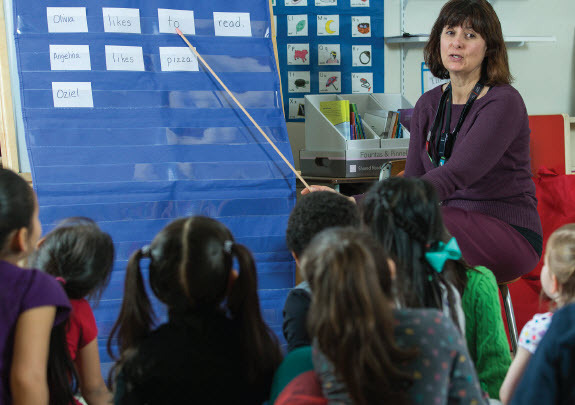 Here are some ways you can support ELLs in Phonics and Word Study:
Use many hands-on activities so that children have the chance to manipulate magnetic letters and tiles, move pictures around, and work with word cards and name cards.
Be sure that the print for all charts (ABC charts, name charts, shared writing, picture and word charts, etc.) is clear and consistent so that children who are working in another language do not have to deal with varying forms of letters.
Make sure that English language learners are not sitting in an area that is peripheral to the instruction (for example, in the back or to the side). It is especially important for these learners to be able to see and hear all instruction clearly.
Provide a "rehearsal" by working with your English language learners in a small group before you provide the lesson to the entire group.
Use real objects to represent pictures and build concepts in children's minds. When it is not possible to use real objects to build concepts, use clear pictures that will have meaning for children. Picture support should be included whenever possible.
Be sure to enunciate clearly yourself and accept children's approximations. If they are feeling their own mouths say (or approximate) the sounds, they will be able to make the connections.
Accept alternative pronunciations of words with the hard-to-say sounds and present the written form to help learners distinguish between them. Over time, you will notice movement toward more standard English pronunciation.
From Phonics, Spelling, and Word Study Lessons, Grade K by
Irene C. Fountas and Gay Su Pinnell. Copyright (c) 2018 by Irene C. Fountas and
Gay Su Pinnell. Published by Heinemann.