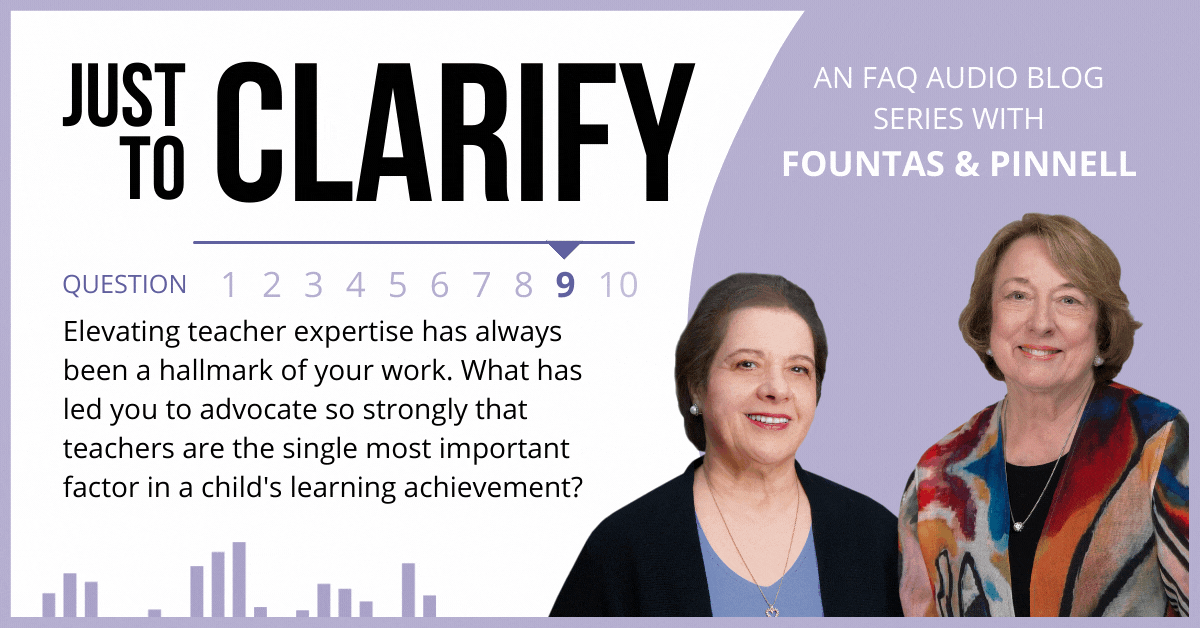 A Message from Irene Fountas and Gay Su Pinnell:
We have long advocated for collaboration over polarization, rationales over labels, observation over rigidity and what we, as educators, need to continue to assure equitable literacy instruction for all children. In support of teachers, school leaders and children, this 10-post blog series offers clarity around mischaracterizations of our work. Throughout the series, we will address these misconceptions in order to set the record straight and offer a space for the education community to hear directly from us. Continue to join us here, on the Fountas & Pinnell Literacy™ blog, as together we navigate to a place of clarity.


Question 9: Elevating teacher expertise has always been a hallmark of your work. What has led you to advocate so strongly that teachers are the single most important factor in a child's learning achievement?

Irene:
Learning to read is complex and no reading program is an alternative to teacher expertise. Over the years, there have been many literacy programs, programs positioned as a one-size-fits-all solution, and some acknowledging the complexity of literacy learning. However, students depend on the expertise of teachers–expertise in understanding the alphabetic system and how it works, expertise in the understanding of texts, including their opportunities and challenges, expertise in understanding each child's unique strengths and needs as a learner, and expertise in how literacy competencies develop in children over time. There is simply no literacy program that can take the place of a teacher's expertise in helping children develop an effective literacy processing system. With any set of resources, teachers will need to make moment-to-moment decisions based on their observation of children.

Research provides strong evidence that teachers are the single most important factor in a child's learning achievement. A look at John Hattie's extensive research shows the greatest influence on student progression and learning is having highly expert, inspired, and passionate teachers and school leaders working together to maximize the effect of their teaching on all students in their care. Collective teacher efficacy, or the belief by the teachers that if they worked together on behalf of all of the children, ranked highest on his list of 252 influences on student achievement, and is defined as teachers' belief that they can make a difference in student achievement through high expectations.

We also look to the work of Tony Bryk, et.al, on learning to improve, which has shown that as teacher expertise increases and success within the school system occurs, student learning accelerates. Through ongoing sustainable professional learning, educators refine their craft and strengthen their instructional decision-making to improve student outcomes. What teachers know and understand as they make those minute-by-minute decisions within the act of teaching will make the biggest difference in student learning. The more teachers know about how students learn to read and write text, and about how they think, and talk based on texts, the better they can act on those understandings. Teachers' understanding of the reading and writing processes are built through observing students' reading, observing their writing and their language behaviors, and noticing how they develop over time. Precise observation of literacy behaviors enables teachers to honor the development and the range of strengths in their students
***


This blog is part of the Just To Clarify FAQ audio blog series. Click below to navigate to other blogs:

Q1: Why have you chosen not to participate in the latest debate about how to teach children how to read and what advice do you have for teachers?

Q2: Can you clarify what MSV is and why you believe it is important?

Q3: Some have suggested that you support the use of guessing. Can you comment on this?

Q4: How does guided reading and the use of leveled texts advance the literacy learning of children and what role does guided reading play within a comprehensive literacy system?

Q5: In your view of early literacy development, what is the role of decodable texts?

Q6: Could you speak to the role of phonics and teaching children to read, and clarify your approach to phonics instruction?

Q7: Some people have referred to your work as "balanced literacy" or "whole language." Do these labels accurately describe your work?

Q8: What do you mean by "responsive teaching" and why is it important?

Q9: Elevating teacher expertise has always been a hallmark of your work. What has led you to advocate so strongly that teachers are the single most important factor in a child's learning achievement?

Q10: Much has been said about the role of teachers in teaching children how to read, but what role do school administrators, coaches, and other teacher leaders play?