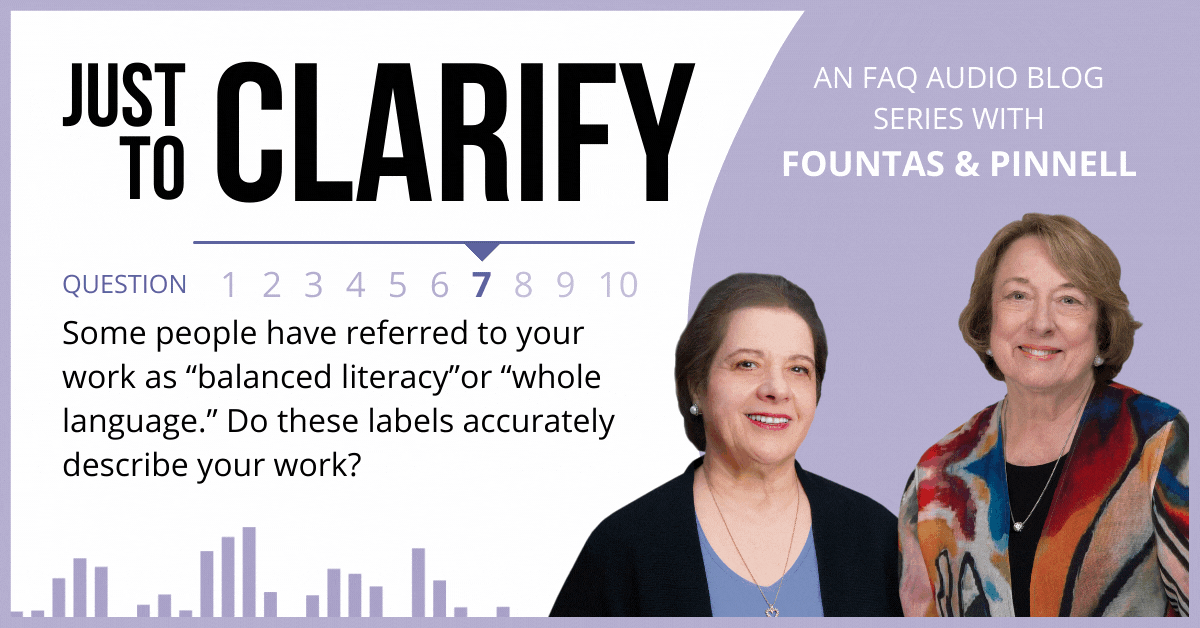 A Message from Irene Fountas and Gay Su Pinnell:
We have long advocated for collaboration over polarization, rationales over labels, observation over rigidity and what we, as educators, need to continue to assure equitable literacy instruction for all children. In support of teachers, school leaders and children, this 10-post blog series offers clarity around mischaracterizations of our work. Throughout the series, we will address these misconceptions in order to set the record straight and offer a space for the education community to hear directly from us. Continue to join us here, on the Fountas & Pinnell Literacy™ blog, as together we navigate to a place of clarity.
Question 7: Some people have referred to your work as "balanced literacy"or "whole language." Do these labels accurately describe your work?
Irene:
We are not fans of using labels to describe literacy instruction because they often mean different things to different people. We have always advocated for teachers and leaders to describe their literacy practices and rationales, rather than label their approach. In our first professional book, Guided Reading, published in 1996, we used the word "balanced" as an adjective when describing a high-quality language and literacy environment that would include both small-group and whole-group differentiated instruction that included the various types of reading and writing, letter and word work, oral language, observation, assessment, homeschool connections, all supported by good teaching. Since that time, the term "balanced literacy" has become a label that means many different things over the years. To some, it means a little of this and a little of that. Rather, we choose to describe effective literacy instruction. Rather, we choose to use terms like "responsive teaching" or "effective literacy teaching."

As to the whole language label—we have always understood whole language as a philosophy, not a program. It came about in the mid-1980s and placed high-quality literature and children's language and learning at the center of instruction. The philosophy renewed educators' understanding of the important role of language and literature in learning. So, over the years, a variety of labels have been used for different practices. But, our experience is that, these labels have not been helpful, and we encourage teachers in schools, and school boards, and school leaders to provide accurate descriptions of the high-quality literacy teaching that they value in their educational system.

So, we have not, and do not, use the term "balanced literacy" or "whole language" to describe our work. In this, Just to Clarify Series, we will talk further about descriptions of our work that we think would be much more helpful than people who choose to characterize work by a particular label.


***


This blog is part of the Just To Clarify FAQ audio blog series. Click below to navigate to other blogs:

Q1: Why have you chosen not to participate in the latest debate about how to teach children how to read and what advice do you have for teachers?

Q2: Can you clarify what MSV is and why you believe it is important?

Q3: Some have suggested that you support the use of guessing. Can you comment on this?

Q4: How does guided reading and the use of leveled texts advance the literacy learning of children and what role does guided reading play within a comprehensive literacy system?

Q5: In your view of early literacy development, what is the role of decodable texts?

Q6: Could you speak to the role of phonics and teaching children to read, and clarify your approach to phonics instruction?

Question 7: Some people have referred to your work as "balanced literacy"or "whole language." Do these labels accurately describe your work?

Q8: What do you mean by "responsive teaching" and why is it important?

Q9: Elevating teacher expertise has always been a hallmark of your work. What has led you to advocate so strongly that teachers are the single most important factor in a child's learning achievement?
Q10: Much has been said about the role of teachers in teaching children how to read, but what role do school administrators, coaches, and other teacher leaders play?