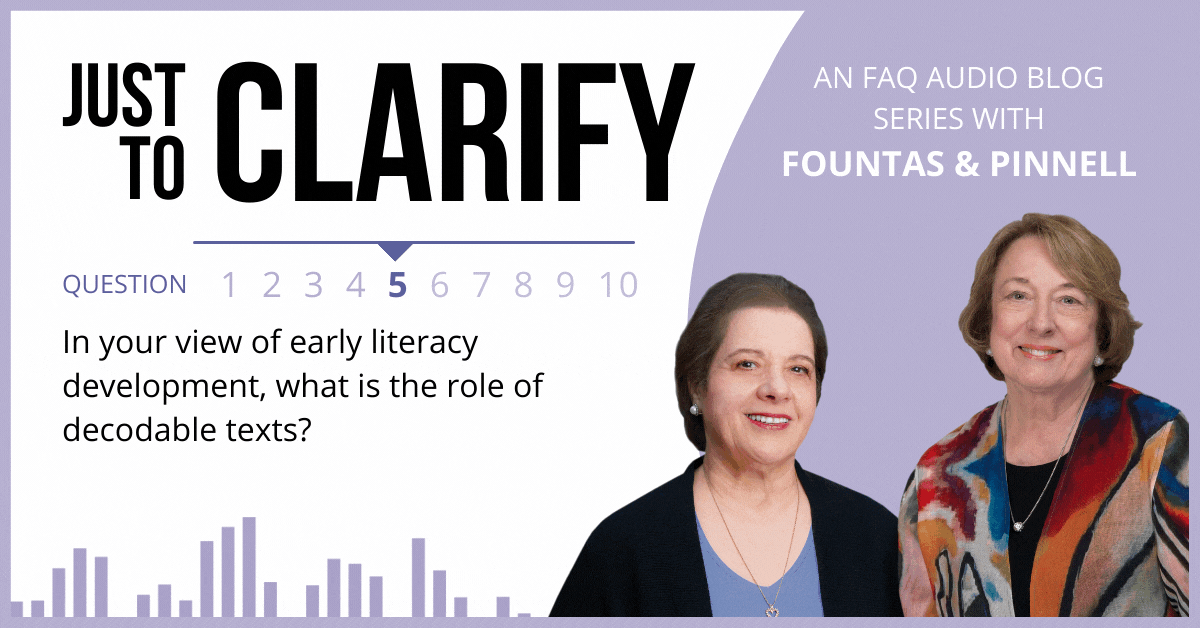 A Message from Irene Fountas and Gay Su Pinnell:
We have long advocated for collaboration over polarization, rationales over labels, observation over rigidity and what we, as educators, need to continue to assure equitable literacy instruction for all children. In support of teachers, school leaders and children, this 10-post blog series offers clarity around mischaracterizations of our work. Throughout the series, we will address these misconceptions in order to set the record straight and offer a space for the education community to hear directly from us. Continue to join us here, on the Fountas & Pinnell Literacy™ blog, as together we navigate to a place of clarity.


Question 5: In your view of early literacy development, what is the role of decodable texts?

Gay:
Over decades, people have created what Clay called contrived texts to assist beginning readers and, in a sense, all of these books are contrived because they are easier. They're simplified. If we go back to the 1800s, children were reading things like, "Lo, I am an ox," using the vowel sounds that they had learned. Now, this sentence is sometimes cited as representing a great method of teaching reading, but the literacy rate in the 1800s was well below 50%, and literacy was not needed to the degree it is today.

But typically, in the last three or four decades, texts are contrived to restrict the reading material to something that beginners can read well. In the '50s, it was books like, "See Jane. See Jane Run. See Jane Run Fast." repeating high-frequency words, sight words. This was based on teaching children these sight words, pre-teaching, and then having them read the text. It began to shift to a more phonetic approach, and here, these contrived texts would have a repetition of vowel sounds and phonograms such as, "Nan can ban Dan." and "Dan can fan Nan.

"In both of these approaches, there was something wrong with the language in these books because children were encouraged to read, and not really to think of the meaning. And in some cases of some texts, the meaning was so elusive that almost no one could make sense of it. But pre-teaching phonetic elements and patterns then resulted in these extremely contrived texts.

All of the contrived texts were created by adult scholars who based their work on assumptions about their own material reading. They assume that reading means recognizing or sounding out the words or memorizing sight words. And that leads to the assumption that children should learn the words first or the letter-sound patterns first, and then read them in words strung together. This could, with some children, lead to the confusion that they're reading nothing more than a list of words.

What we recommend is easy texts with many words that we could call "decodable" because they are regular phonogram patterns such as, "can," "see," "be," mixed with enough sight words that the language sounds a bit like talking. It isn't really exactly the same as talking, but it makes sense to kids. And good stories with interesting illustrations, fiction and non-fiction, so that they have the opportunity to behave like readers and choose books and enjoy books. At the same time, we sometimes have a repeating pattern of a sentence structure to give them more practice. In the books that we have produced, we put in these recognizable repeating elements, but the reader does not depend on or memorize the books. It's a real story, and they're decoding as much as they know and have been taught in phonics lessons in these easy books.

We advise you to ask yourself some questions about the contrived texts that you are using for beginning readers. Does it have a comprehensible, real story, or does it provide interesting information? It needs to engage the child. Are the texts culturally relevant to the children and their own cultures? Are the easy-to-read patterns included, along with a few high-frequency words, so that it sounds like language, but also provides the opportunity for sounding out words? Does it use linguistic structures that sound like language, although simpler? Do the texts focus on everyday experiences that will be familiar to beginners and sound real? Do they explore topics that are interesting to children and within their capacity to understand at this point in their experience?

The high-frequency words in them should be, over the sequence, met again and again and again, and the decodable words, so that they gradually add to that repertoire of words that they truly know and don't have to spend a lot of energy sounding out because the problem-solving — the figuring out words, taking them apart, looking at the beginning sound, the middle, the end — all of that needs to take place against a backdrop of high accuracy, a background of accurate reading.
***


This blog is part of the Just To Clarify FAQ audio blog series. Click below to navigate to other blogs:

Q1: Why have you chosen not to participate in the latest debate about how to teach children how to read and what advice do you have for teachers?

Q2: Can you clarify what MSV is and why you believe it is important?

Q3: Some have suggested that you support the use of guessing. Can you comment on this?

Q4: How does guided reading and the use of leveled texts advance the literacy learning of children and what role does guided reading play within a comprehensive literacy system?

Q5: In your view of early literacy development, what is the role of decodable texts?

Q6: Could you speak to the role of phonics and teaching children to read, and clarify your approach to phonics instruction?

Q7: Some people have referred to your work as "balanced literacy" or "whole language." Do these labels accurately describe your work?

Q8: What do you mean by "responsive teaching" and why is it important?

Q9: Elevating teacher expertise has always been a hallmark of your work. What has led you to advocate so strongly that teachers are the single most important factor in a child's learning achievement?
Q10: Much has been said about the role of teachers in teaching children how to read, but what role do school administrators, coaches, and other teacher leaders play?
---
Have questions for your peers?



More questions? Reach out to your local sales representative.

Want to stay on top of announcements from Fountas & Pinnell? Follow us on social.