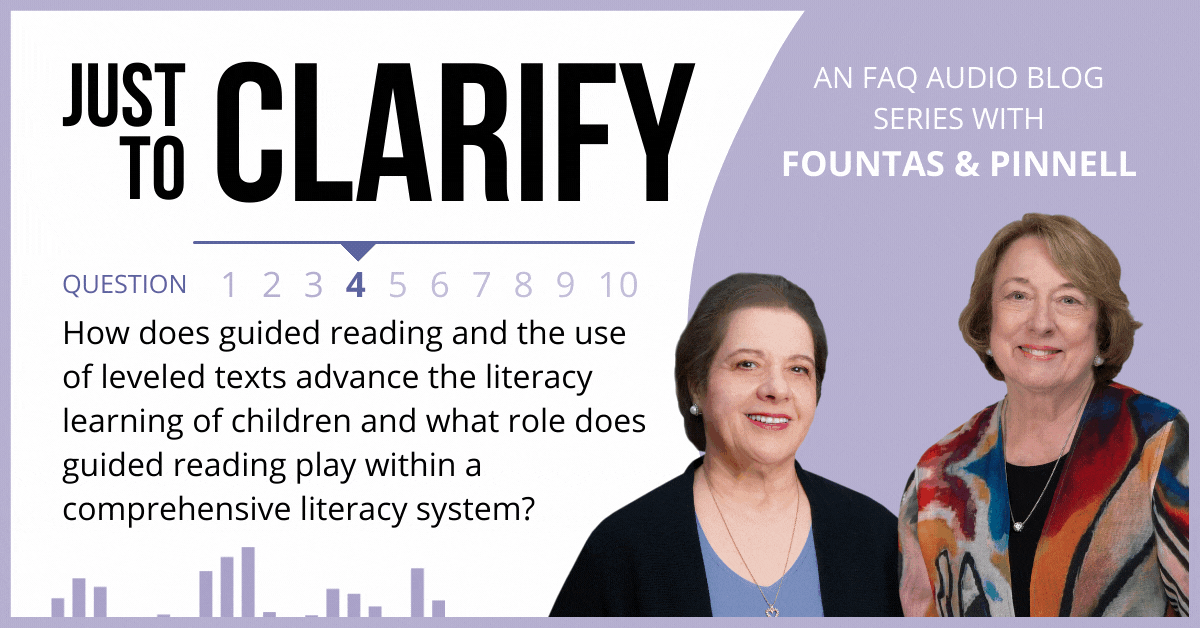 A Message from Irene Fountas and Gay Su Pinnell:
We have long advocated for collaboration over polarization, rationales over labels, observation over rigidity and what we, as educators, need to continue to assure equitable literacy instruction for all children. In support of teachers, school leaders and children, this 10-post blog series offers clarity around mischaracterizations of our work. Throughout the series, we will address these misconceptions in order to set the record straight and offer a space for the education community to hear directly from us. Continue to join us here, on the Fountas & Pinnell Literacy™ blog, as together we navigate to a place of clarity.


Question 4: How does guided reading and the use of leveled texts advance the literacy learning of children and what role does guided reading play within a comprehensive literacy system?

Irene:
Guided reading is small group instruction. Groups are formed with students who are similar at a particular point in time in their reading development. The teacher selects a short text that offers both support and challenge, an instructional level text for their current processing abilities, thus setting the scene for expert differentiated teaching. With explicit teaching, the teacher observes and interacts with students to support more efficient processing. Lessons should take about 15 or 20 minutes per day, perhaps a bit more as the texts get longer. The goal is for students to process one text after another, each with increasing complexity.

But what about the rest of the day? Guided reading is only one component of a comprehensive literacy system that includes the multi-text approach we advocate. It is the only context in which we rely on leveled texts. In addition to small group guided reading instruction, students need to engage daily in whole group instruction in phonemic awareness, phonics, spelling, and word study, and also interactive read-aloud where they hear complex language, learn more about complex topics and explore a variety of genres.

Students need to experience shared reading during which they enjoy reading together with a high level of support from the teacher as they process the print. They engage in book clubs when they can talk about books with others and in daily independent choice reading with many, many books at their disposal over the course of a school year. Learning to read is complex, and the journey for each student is unique. Yet in time, we want to bring all students to the same outcome, a fully developed and proficient processing system for reading and writing, and an elaborate language system that will allow them to articulate their understandings.


***


This blog is part of the Just To Clarify FAQ audio blog series. Click below to navigate to other blogs:

Q1: Why have you chosen not to participate in the latest debate about how to teach children how to read and what advice do you have for teachers?

Q2: Can you clarify what MSV is and why you believe it is important?

Q3: Some have suggested that you support the use of guessing. Can you comment on this?

Q4: How does guided reading and the use of leveled texts advance the literacy learning of children and what role does guided reading play within a comprehensive literacy system?

Q5: In your view of early literacy development, what is the role of decodable texts?

Q6: Could you speak to the role of phonics and teaching children to read, and clarify your approach to phonics instruction?

Q7: Some people have referred to your work as "balanced literacy" or "whole language." Do these labels accurately describe your work?

Q8: What do you mean by "responsive teaching" and why is it important?

Q9: Elevating teacher expertise has always been a hallmark of your work. What has led you to advocate so strongly that teachers are the single most important factor in a child's learning achievement?
Q10: Much has been said about the role of teachers in teaching children how to read, but what role do school administrators, coaches, and other teacher leaders play?