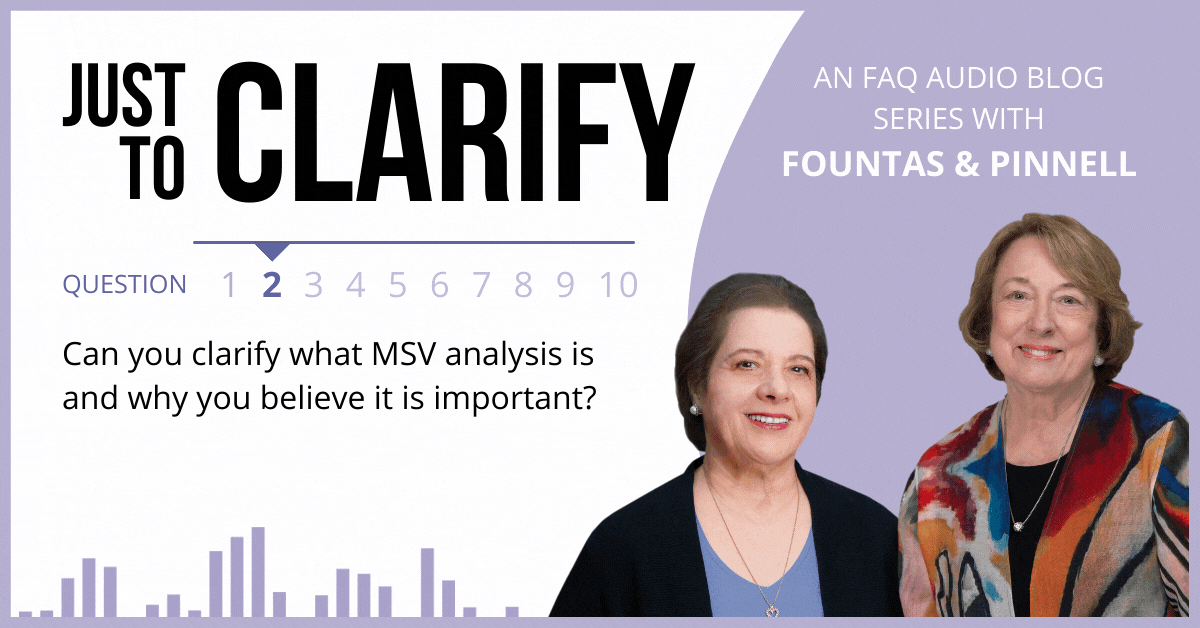 A Message from Irene Fountas and Gay Su Pinnell:
We have long advocated for collaboration over polarization, rationales over labels, observation over rigidity and what we, as educators, need to continue to assure equitable literacy instruction for all children. In support of teachers, school leaders and children, this 10-post blog series offers clarity around mischaracterizations of our work. Throughout the series, we will address these misconceptions in order to set the record straight and offer a space for the education community to hear directly from us. Continue to join us here, on the Fountas & Pinnell Literacy™ blog, as together we navigate to a place of clarity.




Question 2: Can you clarify what MSV analysis is and why you believe it is important?

Irene:
MSV stands for meaning, language structure or syntax and visual information, which includes graphics, the letters and phonological information, the sounds. It is a way for teachers to analyze what information a young reader uses and does not yet use as he builds a system for processing written texts from his earliest encounters with print.

The goal for the reader is accuracy using all sources of information simultaneously. And that includes processing each letter in words from left to right. If a reader says "pony" for "horse" because of information from the pictures, that tells the teacher that the reader is using meaning information from the pictures, as well as the structure of the language, but is neglecting to use the visual information of the print. His response is partially correct, but the teacher needs to guide him to stop and work for accuracy.

At an early point in development, the teacher prompts for the child to monitor his reading and recognize that pony makes sense, but doesn't look right. A student at a later point in development might require a different prompt such as, "Try that again, and be sure what you read looks right and makes sense", or "Check the letters to be sure you are right."

In another example, if a reader, substitutes "house" for "horse," he is not using meaning information. The goal is for the child to stop or monitor, look more closely at the word and think about what would make sense and fit with the sequence of letters.

The bottom line is that a young reader must use everything he knows to move through a written text, to read it accurately and understand it. Multiple sources of information are combined in a complex and orchestrated way. The development of the child's ability to use all sources of information will take time and skillful teaching. It is impossible to boil down this process to something as simplistic as "don't think, just sound it out."


***


This blog is part of the Just To Clarify FAQ audio blog series. Click below to navigate to other blogs:

Q1: Why have you chosen not to participate in the latest debate about how to teach children how to read and what advice do you have for teachers?

Q2: Can you clarify what MSV is and why you believe it is important?

Q3: Some have suggested that you support the use of guessing. Can you comment on this?

Q4: How does guided reading and the use of leveled texts advance the literacy learning of children and what role does guided reading play within a comprehensive literacy system?

Q5: In your view of early literacy development, what is the role of decodable texts?

Q6: Could you speak to the role of phonics and teaching children to read, and clarify your approach to phonics instruction?

Q7: Some people have referred to your work as "balanced literacy" or "whole language." Do these labels accurately describe your work?

Q8: What do you mean by "responsive teaching" and why is it important?

Q9: Elevating teacher expertise has always been a hallmark of your work. What has led you to advocate so strongly that teachers are the single most important factor in a child's learning achievement?
Q10: Much has been said about the role of teachers in teaching children how to read, but what role do school administrators, coaches, and other teacher leaders play?