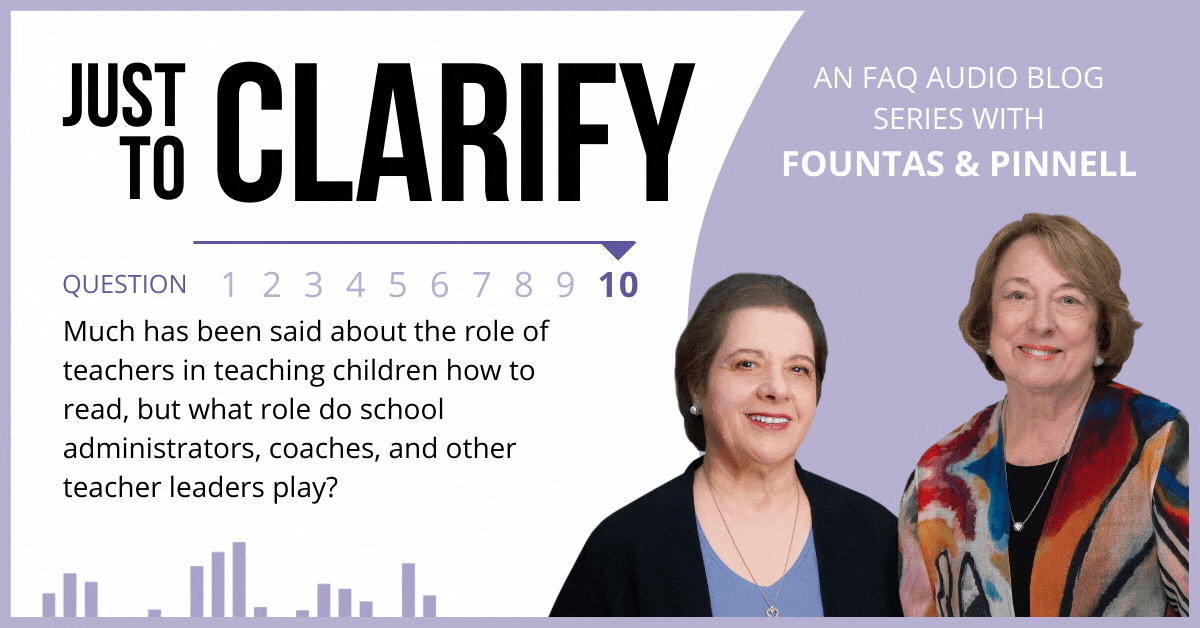 A Message from Irene Fountas and Gay Su Pinnell:
We have long advocated for collaboration over polarization, rationales over labels, observation over rigidity and what we, as educators, need to continue to assure equitable literacy instruction for all children. In support of teachers, school leaders and children, this 10-post blog series offers clarity around mischaracterizations of our work. Throughout the series, we have addressed these misconceptions in order to set the record straight and offer a space for the education community to hear directly from us. Thank you for joining us here, on the Fountas & Pinnell Literacy™ blog.
Question 10: Much has been said about the role of teachers in teaching children how to read, but what role do school administrators, coaches, and other teacher leaders play?

Irene:
The effectiveness of literacy instruction within the classroom is dependent on the expertise of the teacher, but the effectiveness of literacy instruction throughout the school is increased when supported by principals, coaches and other teacher leaders who engage in acts of leadership to support schoolwide improvement.

In our vision of leadership, school leaders nurture other leaders, champion the mission of the school within the community, and inspire action based on the common vision and values of the school. They build and promote a culture of collective responsibility where all the educators in the school take responsibility for the success of all students, by their care, leadership, and collective expertise. They expand professional capacity in the system by fostering teacher leadership and teamwork that enhances the instructional excellence provided to each child. When a teacher becomes a leader – sharing their expertise with colleagues to strengthen the entire literacy system – the effectiveness of literacy education throughout the school is increased.

There are various roles throughout the school that can support the growth of teacher expertise: principals who aim to build the capacity for shared leadership in their schools, literacy coaches who value the expertise of teachers and support their leadership development, and teachers who want to grow professionally and contribute to their team by engaging in acts of leadership to support all their colleagues.

Gay:
The culture of learning in a school is highly related to the leader's ability to promote that culture. Effective leaders promote a culture where the collective focus is on the children – not just how and what they learn, but in valuing collective responsibility. That means that every child in the school is OUR child. The leader strives for the school to reflect the community, and recognize and honor the unique places each child comes from. It takes time to build an effective school culture, which means everybody's learning. Teachers are learning from their own craft; they're helping each other learn and they are learning from each other.

And here's where the leadership comes in. The principal and the literacy coach, or anyone in a leadership position, makes it clear that that's how we do things here. An important part of our work is supporting our colleagues and helping everybody learn more every year, because children need (especially vulnerable children) more than one good year of excellent instruction. We all have to help each other be good at this – year after year. And that involves creating a trusting environment, a place where teachers can investigate, try new things, make mistakes, correct mistakes, and help each other. A school that honors constantly working on the learning of both children and teachers and provides a leadership outlet for teachers – that's a learning school.

Teacher leadership holds exciting potential for building the capacity of schools to improve teacher expertise and student outcomes. If you are a principal or other school leader, take every opportunity to nurture the leadership of teachers in your school by thinking in new ways about how to engage a variety of teachers, clearly defining roles, and providing sufficient time, ongoing professional learning, and adequate resources for them to support effective instruction and student learning. If you are a coach, partner with and mentor teacher leaders with fresh energy to expand their expertise. If you are a teacher, step out and embrace acts of leadership.

Leadership has great potential to make a difference in the professional lives of your colleagues and in the literate lives of the students in your school community.
***


This blog is part of the Just To Clarify FAQ audio blog series. Click below to navigate to other blogs:

Q1: Why have you chosen not to participate in the latest debate about how to teach children how to read and what advice do you have for teachers?

Q2: Can you clarify what MSV is and why you believe it is important?

Q3: Some have suggested that you support the use of guessing. Can you comment on this?

Q4: How does guided reading and the use of leveled texts advance the literacy learning of children and what role does guided reading play within a comprehensive literacy system?

Q5: In your view of early literacy development, what is the role of decodable texts?

Q6: Could you speak to the role of phonics and teaching children to read, and clarify your approach to phonics instruction?

Q7: Some people have referred to your work as "balanced literacy" or "whole language." Do these labels accurately describe your work?

Q8: What do you mean by "responsive teaching" and why is it important?

Q9: Elevating teacher expertise has always been a hallmark of your work. What has led you to advocate so strongly that teachers are the single most important factor in a child's learning achievement?
Q10: Much has been said about the role of teachers in teaching children how to read, but what role do school administrators, coaches, and other teacher leaders play?