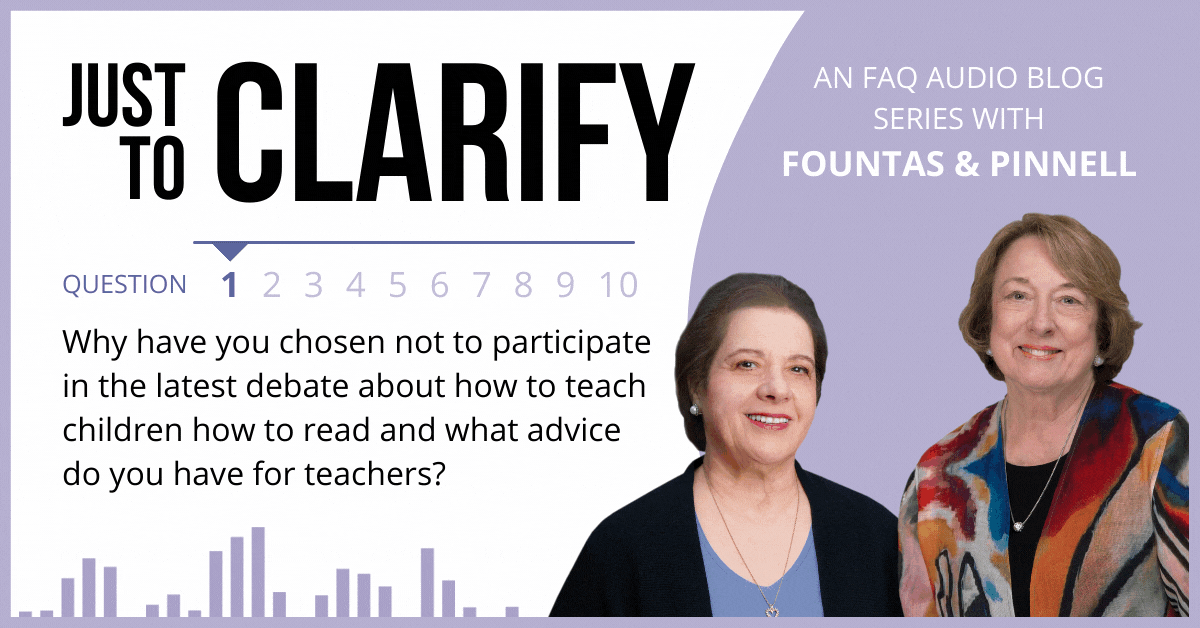 A Message from Irene Fountas and Gay Su Pinnell:
We have long advocated for collaboration over polarization, rationales over labels, observation over rigidity and what we, as educators, need to continue to assure equitable literacy instruction for all children. Today, in support of teachers, school leaders and children, we are launching the first of a 10-post blog series to offer clarity around mischaracterizations of our work. Over the next two weeks, we will address misconceptions around our design for literacy instruction to set the record straight and offer a space for the education community to hear directly from us. Please join us here, on the Fountas & Pinnell Literacy™ blog, as together we navigate to a place of clarity.


Below is a transcript of this audio.


Question 1a: Why have you chosen not to participate in the latest debate about how to teach children how to read?

Irene:
Gay and I have lived through polarization before, and we simply don't see it as being productive. We choose to engage in conversation, and conversation is different from debate. Conversation enables us to learn more from each other and clarify our thinking with each other.

We've never spent time criticizing others, and we respect multiple perspectives, and certainly feel that we can learn from multiple perspectives. Our focus has always been on advancing children's literacy learning and elevating the expertise of teachers.

We have a complex view of learning, and literacy learning, and polarized debates about people's experiences doesn't contribute to the profession. We do feel now, it's the right time to clarify some mischaracterizations of our work in support of teachers, some of whom are under attack. Over the next two weeks, we will continue to address these misconceptions, to set the record straight, and offer space for educators to hear directly from us, on the true design and research behind our work.

Question 1b: What advice do you have for teachers who feel caught in the crossfire while this literacy debate intensifies?
Gay:
Marie Clay has said, "If a child has not learned, then we have not yet discovered the way to teach him." She really set a model of continual learning for teachers and for professors and for researchers, for everyone. We see these extreme emphases that come and go as not being very productive. We would encourage you to remain steadfast to your vision and values and keep learning more from the children you teach through careful observation and for making decisions based on the data that comes from those observations systematically taken. Keep doing what works for your children, the children you teach, and rely on observable reading and writing behaviors to guide your moment-to-moment teaching. You'll know more about the impact of your own teaching, and you can make those adjustments that you need to, to do the best you can at serving the needs of all. It will help you maintain your equilibrium, build your expertise in literacy teaching and learning, and navigate shifting mandates without compromising your vision and values. Improving and sustaining literacy outcomes for every child is a goal worthy of all our best efforts, and one that we seek together, not divided.
***


This blog is part of the Just To Clarify FAQ audio blog series. Click below to navigate to other blogs:

Q1: Why have you chosen not to participate in the latest debate about how to teach children how to read and what advice do you have for teachers?

Q2: Can you clarify what MSV is and why you believe it is important?

Q3: Some have suggested that you support the use of guessing. Can you comment on this?

Q4: How does guided reading and the use of leveled texts advance the literacy learning of children and what role does guided reading play within a comprehensive literacy system?

Q5: In your view of early literacy development, what is the role of decodable texts?

Q6: Could you speak to the role of phonics and teaching children to read, and clarify your approach to phonics instruction?

Q7: Some people have referred to your work as "balanced literacy" or "whole language." Do these labels accurately describe your work?

Q8: What do you mean by "responsive teaching" and why is it important?

Q9: Elevating teacher expertise has always been a hallmark of your work. What has led you to advocate so strongly that teachers are the single most important factor in a child's learning achievement?
Q10: Much has been said about the role of teachers in teaching children how to read, but what role do school administrators, coaches, and other teacher leaders play?